Hey guys,
Sorry for the time between updates, but now that school has started we have become very busy people. Not a whole lot to talk about in this update but hopefully this will hold you over until the next big one. First up, We have a new concept which won't be liked by all, but I feel that it is necessary for improved game play.
We have a new texture type which we are classifying as a NoHook texture. This is a texture which you cannot hook onto. Originally we didn't want to include this type of texture because we really wanted this game to be free roam. And while it is still definitely a free roaming game, with Nohook textures I can create situations which require skill and finesse to play and complete. Also I can make maps which are longer and harder to complete because you cant just pull over the top of every single building and get to your goal in a boring way. With Nohook I can force the player to use swings, double jumps, and some of the other techniques that are quite a bit of fun.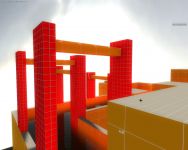 Example of the NoHook texture
Another small update is the work that I have been doing designing maps. While I haven't done a whole lot of aesthetic work, I have been designing and creating quite a few time-trial maps, and while they don't look amazing, they are loads of fun to play. (Might explain why we haven't done a lot of work lately =] ) The goals work really well and we have been having competitions between the two of us on who can get a better time on the maps.
The way that we are designing maps is a little bit different from the way that most maps for games become created. At first we tried to draw the maps normaly from the top down view. But this just didn't work at all. So we decided to try something different and draw sections from the side view.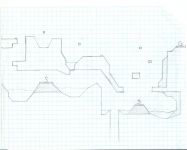 Example of one of the side view level ideas.
Then I take those side view drawings and overlay them in different directions figuring out where they can fit together. And that is how a time trial map is born. I then go back and change some things up to make it have at least 3 obvious paths that you can take, and I add in the goals / secondary goals, and that finally ends up resulting in a very fun to play map.
Agian, sorry for the time between updates, but look forward to Alex's next update coming sometime next week. Also in case you missed the more meaty updates check out our news section!
-Cooper