Greetings to you all I bring tidings of that which has come of our teams fruitful work. Images by Nay0r that tell a tale of a dark foreboding landscape in the heart of a cold urban metropolis. As well as a gruesome exhibition of a lifeless vagrant sans the legs to propel himself, brought to life by Sickjoe.
nmrih_broadway
You may or may not remember but back in our September 7th update we had some images of a work in progress map nmrih_broadway by Nay0r. Well nmrih_broadway is nearly finished now with some very dark and foreboding lighting. We have five images here today to showcase the atmosphere and setting of this map. Having gone though some walkthroughs my self I can say it has a great horror style atmosphere. Next on the list is gameplay tweaking through testing.
The Crawler
We have planned from the start that we want there to be crawler zombies in game. So SickJoe has jump started the process by coming up with the concept we will base it off of. Very gruesome and gory down to the last detail, quality you can always expect from SJ.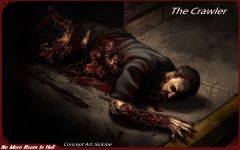 Forthwith another week has come to an end, in valediction I must always implore you to be forthcoming in our humble community.
Be sure to check out our Ventrilo here:
NMRIH Ventrilo Information
Join our IRC channel here:
NMRIH IRC Information
Become a member of our Steam community:
NMRIH Steam Community Information