Poster & Billboard Contest!
We here a No More Room in Hell would like to have a little "Community Creativity Contest and Prizes." (aka CCCP)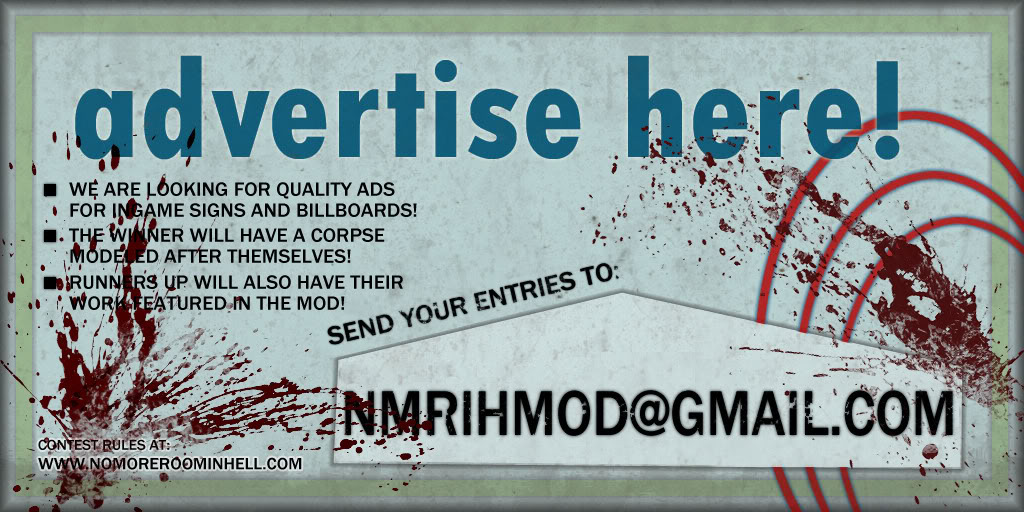 Prizes
1st Place
$10 Game on steam + Corpse model of yourself (available for substitution at winners request)
2nd Place
$10 Game on steam
3rd Place
$5 Game on steam
Guidelines
Billboard Guidelines
Dimensions: 1024x512
Format: JPG & PSD
If you want to make it larger use be sure to use those proportions scalable by a power of two.
With a 2:1 ratio Ex. 2048x1024, 4096x2048
Movie Poster/Poster Guidelines
Dimensions: 256x512
Format: JPG & PSD
If you want to make it larger use be sure to use those proportions scalable by a power of two.
With a 1:2 ratio Ex. 512x1024, 1024x2048
RULES!
(meaning you should read them)
Submissions must be in JPG format along with a PSD (or other editable format if available) packaged in a .zip or .rar file
Multiple submissions are accepted and will be factored in when choosing a winner. (If you make more than one submission, submit them in a single .zip/.rar or make note of it in your email subject head if sending a second email)
No real products (ex. no real life brand names or copyrighted names, brands, logos, etc.)
Keep the subjects non-zombie & No zombie related products (yes we know we are a zombie game we don't need every single poster and billboard in game to say that as well)
Team members are prohibited from competing. (that does not include testers so feel free to compete)
All Submissions must be in on or by

January 31st

By submitting your entry the NMRiH team has the right to publish, modify, and/or redistribute said entry. (100% of the credit will be given to the respective artist)
Submissions must be sent to nmrihmod@gmail.com and follow the following guidelines:
Email subject head should contain your Name (forum handle or real name) and Submission type (poster/billboard or both) (Example: Dman757 Billboard Submission)
All submitted files (the JPG+PSD and zip/rar) should have your name, type of Submission and optional name of creation. (Example: Dman757_Billboard_Heart-Key-Inc.jpg)
Information in the body of the email: A way to contact you (Ex. Email, MSN, Steam, Skype, etc.) Your name, Your Steam id name, and anything else is extra.
Any and all questions regarding submissions, rules, guidelines should be sent to nmrihmod@gmail.com
As an optional incentive, unaffiliated with the NMRiH team, Comrade Merf offered a small extra prize.
For someone who makes a good quality billboard or poster containing all of the following: Cthulhu, Dinosaurs, Vikings, and Nazis all fighting. Merf will write your name on the first bullet fired from his new Mosin Nagant. With pictures to prove it.