Pixel, pixel, little pixelmen - a GFX update
To our modDB audience: This update might look 'sloppy' by standards set forth by the First-Person Shooter mods, but this is merely because we do not save up media for a nice clean hit, Dev Diaries are simply our way of showing you guys what we have been working on. We do not aim for the ultimate graphical quality for the simple reason that HoI 'has' no graphical quality, hell, playing Word is more exciting if you're used to Counter-Strike ;). What we do intend to do, though, is deliver you a fully-built mod with a fully revamped GUI, to completely alter the feel of Hearts of Iron and deliver you a great gameplay experience.
TRP, as most of you might already know, has hopped aboard the 1964 train. Our goal is to make 1964 the first mod that gives HOI a total GUI makeover that isn't obtrusive or annoying (aka too dirty or contrasting)
We're very excited about 1964, and more specifically about some of the whacky ideas that have been flying around for late-game techs. With a completely alternate timeline and a techtree spanning from Cold War to future, we have a lot of freedom in 1964 to, well, do whatever the hell we want. Gauss battleships? Exosuit infantry? Nanotechnology? UAV Drone brigades? Yes please!
Now, what you came for to see: Pictures or it didn't happen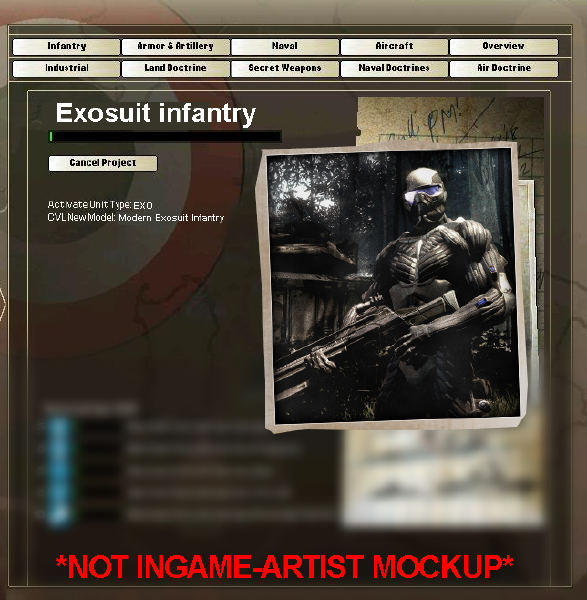 A small mockup we did to illustrate how the Exosuit tech will look ingame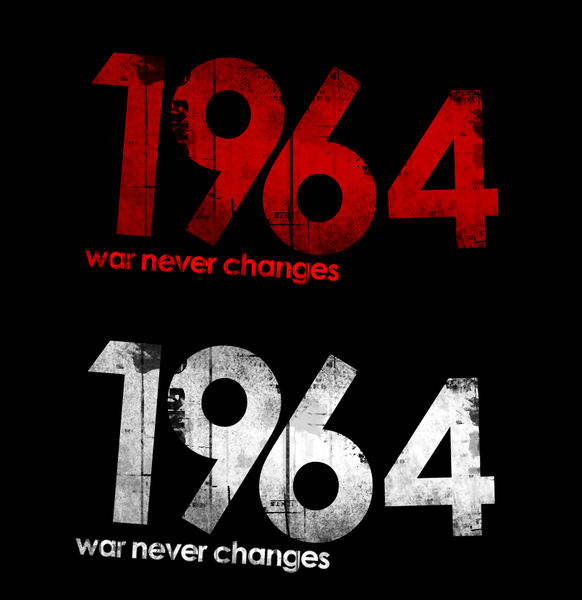 Plans for a new 1964 logo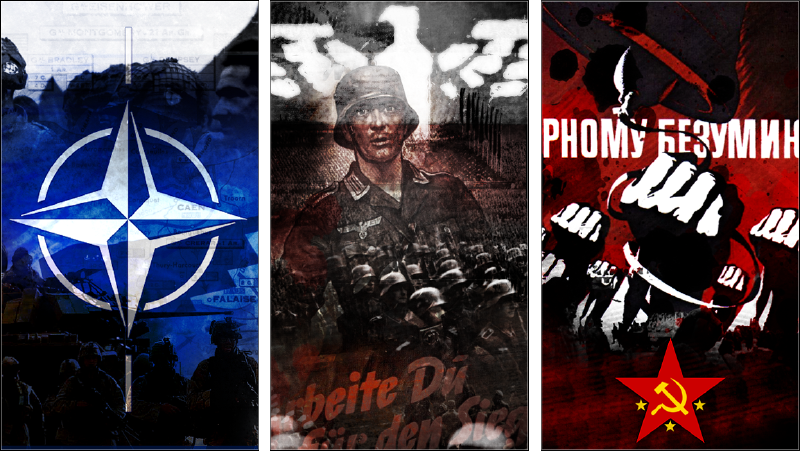 Graphics for each side, not sure what we'll do with them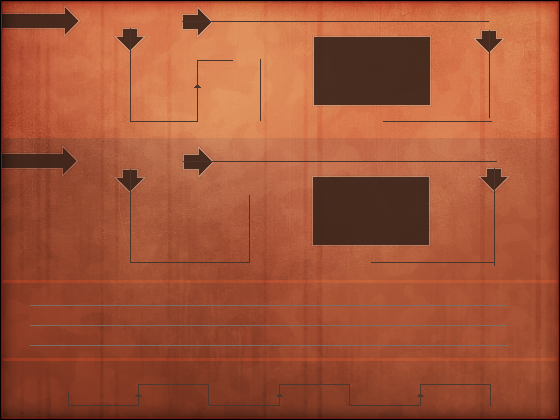 We're also trying out new textured backgrounds for the GUi, see if HOI can handle them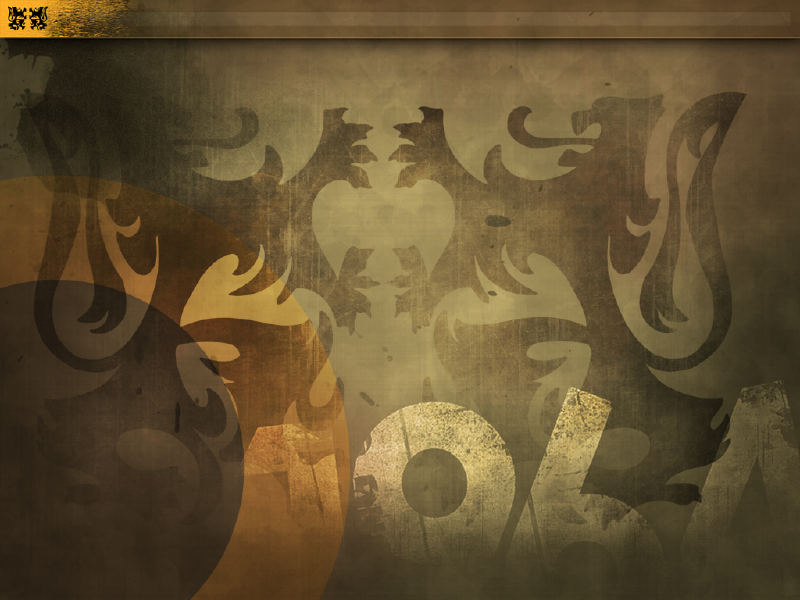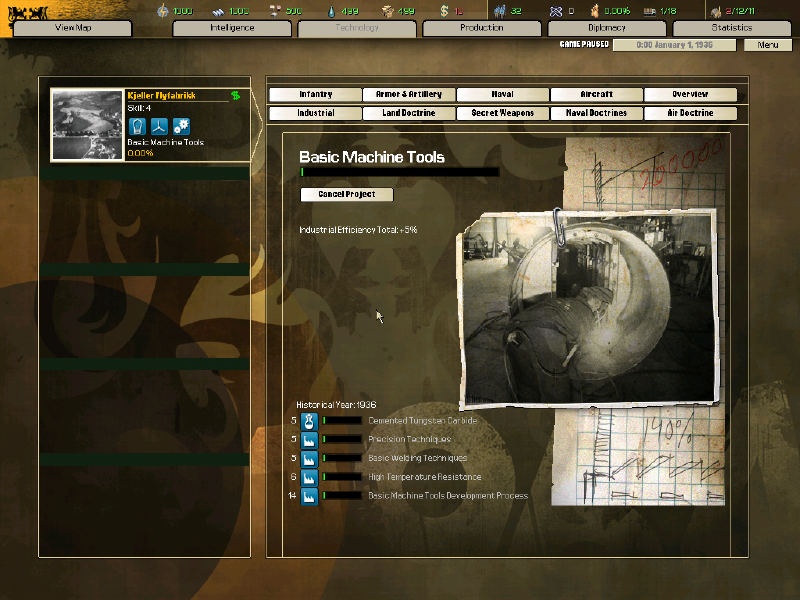 GUI of the United Netherlands, slapped onto vanilla's Norway, just to test it out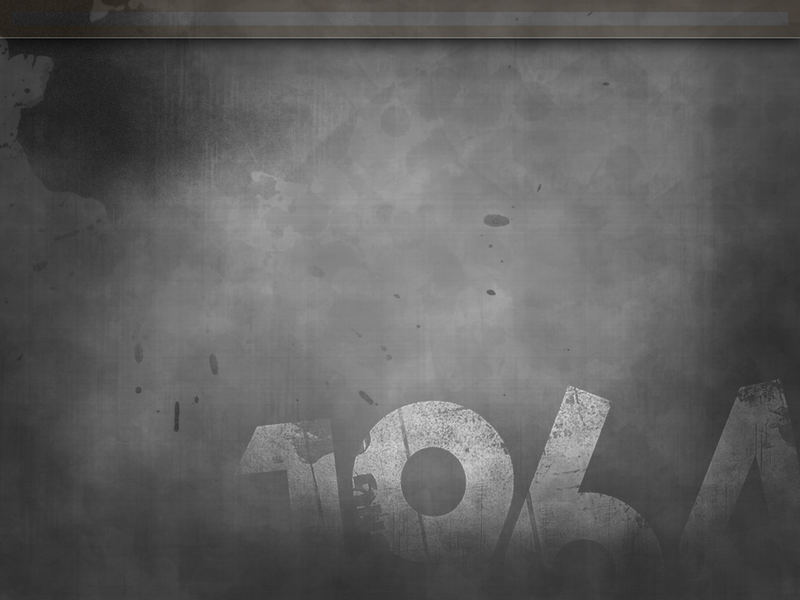 The template that will be the base of our new UI. Less filters and cheap tricks, more delicious grunge! We're also proud to announce that every country and revolter in 1964 will have a custom GUI. That's right. Every single one.
This is our 'bling' update, just to wow and attract members, but we assure you a lot more is happening between the (open) curtains. I could post you the fully coded United Kingdom event tree or the finished OoB of the United Netherlands, but this would make less sense to a wider audience. Since we work according to the Everything is Public principle, all materials can be viewed on our forums.
We're also glad to announce Nineteen Sixty-Four will feature some concept art made by the Singapore-based Ukitakumuki and the gentle lads at Space Vagabonds TCG, who allowed us to use some of their copyrighted material in our very own mod.
That's all we have to show for now, be sure to check out our ModDB page (https://www.moddb.com/mods/nineteen-sixty-four) or our forums (http://z6.invisionfree.com/Team_TGG/index.php?&&CODE=01&CookieDate=1). We are allways looking for more event scripters, researchers or just people who like to comment!