Finally, NightmareZ V1.0 has been released. You have been waiting for long and now it is your chance to try out the game.
The information regarding this game is given below:
GAME STORY:
Who could ever think the Doom's day to arrive so early? The world has been completely consumed by Darkness(Dark energy). The zombies and evil spirits manifested to rule over the world. But this is not an impossible task to restore the human beings who have already been lost. The fate is displaying the NIGHTMARE of being consumed by darkness spontaneously. In this catastrophic situation, a speck of light of HOPE appears. The person who has been lured to the battle field by the king of darkness, is not a human being but a demon with unusual demonic power. He wants to fight against the evil forces.
He had lost his family 5 years ago due to the sudden attack of evil spirits. He is now guided by a saint who provides him instructions from time to time. He is the son of the greatest warrior, Zaxina. He is Razor. There is a deep mystery behind the demonic powers of Razor, which his brother knows. Razor had never seen his brother from birth and hopes to meet him someday. His current aim is to seize and annihilate the evil demonic forces!
Features of Full Version Game:
Completely story driven
7 large scenarios!
Challenging situations and hard to master
A wide range of characters, modern machines and deadly traps.
Wide range of equipments including ammo, health box and energy box.
Open locked doors by collecting keys!
4 unique and powerful bosses!
Die for about million times!
Game Manual having important tips and tricks for playing the game.
Game Trailer:
Order the game:
Some Gif images will give you a clear idea about the game.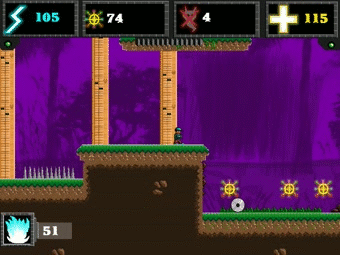 The above image shows how the player avoids the saw and collects the golden shiny rings.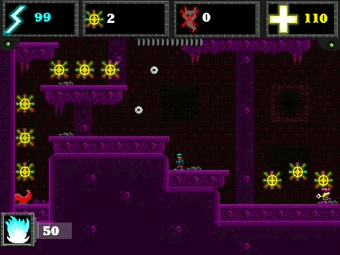 The above image shows the alternate power of the player and the technique by which an enemy gets destroyed.
Thank you.