A long time ago in a galaxy far, far away...
Imperial tyranny has left its mark right across the galaxy. The oppressed and those who believe in a better way of life, who remember the bright days before the Empire, gather in secret. They will stand by and allow the suffering no more. Leaders have been chosen, and lines shall be drawn in the sand. It is time for the people of the galaxy to rise up and free themselves from the Emperor's iron grip.
The Outer Rim becomes more lawless day by day, intelligence reports of an outlaw Rebellion gathering in the most far flung systems of the galaxy has reached the ears of Imperial High Command. Governors and Moffs are being dispatched to these outlaying sectors with orders to engage and destroy any such uprisings. Local garrisons will continue to recruit new troops to aid in keeping the peace in these sectors. Order will be restored.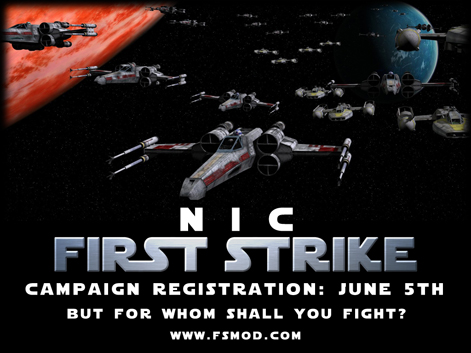 At last the Nations In Conflict First Strike Campaign has arrived. With Leaders, Officers and admins selected, the full registration process can finally begin. Starting on Sunday June 5th you will be able to register on Nations In Conflict's forums to be a new recruit for either the Imperial or Rebel factions. Once signed up you'll be eligible to participate in the first round of campaign battles which will commence on the following Sunday, June 12th.
If you want to experience First Strike as it was meant to be played then this is really the way to do it, you'll be under the command of First Strike veterans who'll show you the ropes and teach you valuable tactics which will lead you to victory. Teamwork and communication will be paramount. It will be the faction who works best together on the day who will succeed.
Register here today: Nations In Conflict
But for whom shall you fight?