I am slowly still developing the mod. I have decided to rework some faction abilities and units that I did not like at all or were quite useless. I have also changed the upcoming new faction Axis Foreign Army after extensive test.
Changelog preview
Axis foreign army changes:
The Axis Foreing Army has now access to the Panther Ausf. G with the Panther Battlegroup support ability. The Panther Ausf. G has a humongous range of 250 and higher accuracy.
The Axis Foreign Army originally had the Pz.Kpfw. III Ausf. E as basic medium tank, which was later improved through unlock to the Pz.Kpfw. III Ausf. J and Pz.Kpfw. III Ausf. L. The inferiority of these tanks, compared especially to the USSR late game tanks, made them practically useless after the first 15 minutes of gameplay. To improve late game medium tanks now the Axis Foreign Army stars with the Pz.Kpfw. III Ausf. J (50mm Kwk 38 and 50mm of maximum armour), followed by the Pz.Kpfw. III Ausf. L (KwK 39 and 70mm of maximum armour), and finally by the Pz.Kpfw. IV Ausf. J. The latter is a late war production of the Pz.Kfpw. IV Ausf. H, which turret had the electric generator removed the speed up production. For this reason it has the same firepower of its elder brother but the turret traverse is extremely slow.
The Axis Foreing Army was very vulnerable to light vehicle rushes due to the fact that it has to invest in upgrading the infantry supply line very soon in order not to lose tech points (see the upcoming faction features). Now the Heavy MG-34 of Axis Foreign Army shoots armour piercing incendiary rounds to offer better anti-vehicle options. It is not as good as M2 heavy machineguns or Vickers, but it can deal with armoured cars at close range.
General changes:
Vehicles mounting AA guns and autocannons now carry more ammo (for example Luchs, Sd.Kfz. 222, etc.).
HEAT rounds now properly pierce the enemy armoured vehicles.
Wehrmacht changes:
The Panzergruppe support command simply had too much access to different kinds of units, especially in late game where it was possible to deploy both the King Tiger, the Elite Tigergruppe, and heavy tank destroyers such as Elefant and Jagdtiger. For this reason all tank destroyers (except StuG III) have been moved to the Infantry Division Support Command, where they suit better. The Panzergruppe Support Command has still the King Tiger available to deploy.
The tech requirement and price for the PaK40 were too low compare to the unit performance even against heavier tanks. For this reason the Artillery tech points required to deploy it have been increased to 15 (from 8), and its price was raised to 500 (from 400).
The Nebelwerfer42 is an excellent anti-infantry unit but it came out too early, basically removing the challenge of dealing with USA infantry. For this reason the Nebelwerfer42 tech requirements have been raised from 8 to 15 artillery points.
Since all tank destroyers have been moved to the Infantry Support Command, receiving a random tank destroyer would mean a redudancy of available units in different reinforcements. For this reason the Panzerjäger ability now always deploys a Nashorn tank destroyer besides the tank hunter squad.
The Armoured Infantry ability was too cheap compared to the units you get (Pz.Kpfw. IV Ausf. H + 4 sub-machinegunners). Its price has been raised from 600 to 750.
The Artillery Reserve ability created redundancy by spawning randomly a Hummel. For this reason now the ability spawns only unique units (Sturmpanzer I or StuH42).
USA changes:
USA lacked late anti armour capabilities with all but the Armored Cavalry Support. For this reason Sherman 76(W) has been made available for all Support Commands but the Marines (for historical reason, since it was never deployed to the Pacific Theater).
The Medic Ability of the Infantry Support Command was quite useless, since units already carry a decent amount of medkits. For this reason it has been replaced with a M10 tank destroyer call-in.
Commowealth changes:
The Fortification Support Command was quite a useless support command, because it offered only weak defensive options. For this reason I have reworked it completely in the following way:
Dig in: This ability now periodically selects a random amount of units. Each infantry units receive +500% health bonus and tanks become immune to enemy fire. The affected units are periodically changed in order to avoid Godmode abuse.
Heavy Engineers: One of the Heavy Engineers now carry a kit to build a 93mm Vickers AA emplacement (in the fashion of Japanese Heavy Engineers and Axis Foreign Army Sturmpioneer).
Archer: An Archer tank destroyer can be called in. It is equipped with the 76mm 17 pdr. but it is turretless and weaker than the Achilles.
Lancaster bombing run: A Lancaster bomber is called in and drops 10 bombs on the target.
USSR changes:
The Defectors support ability was quite useless and weird. For this reason it has been replaced with a more usefull Air superiority ability. This ability periodically targets a random enemy unit with an IL-2 Sturmovik strafing run.
Bonus images:

Axis Foreign Amry new Panther Ausf. G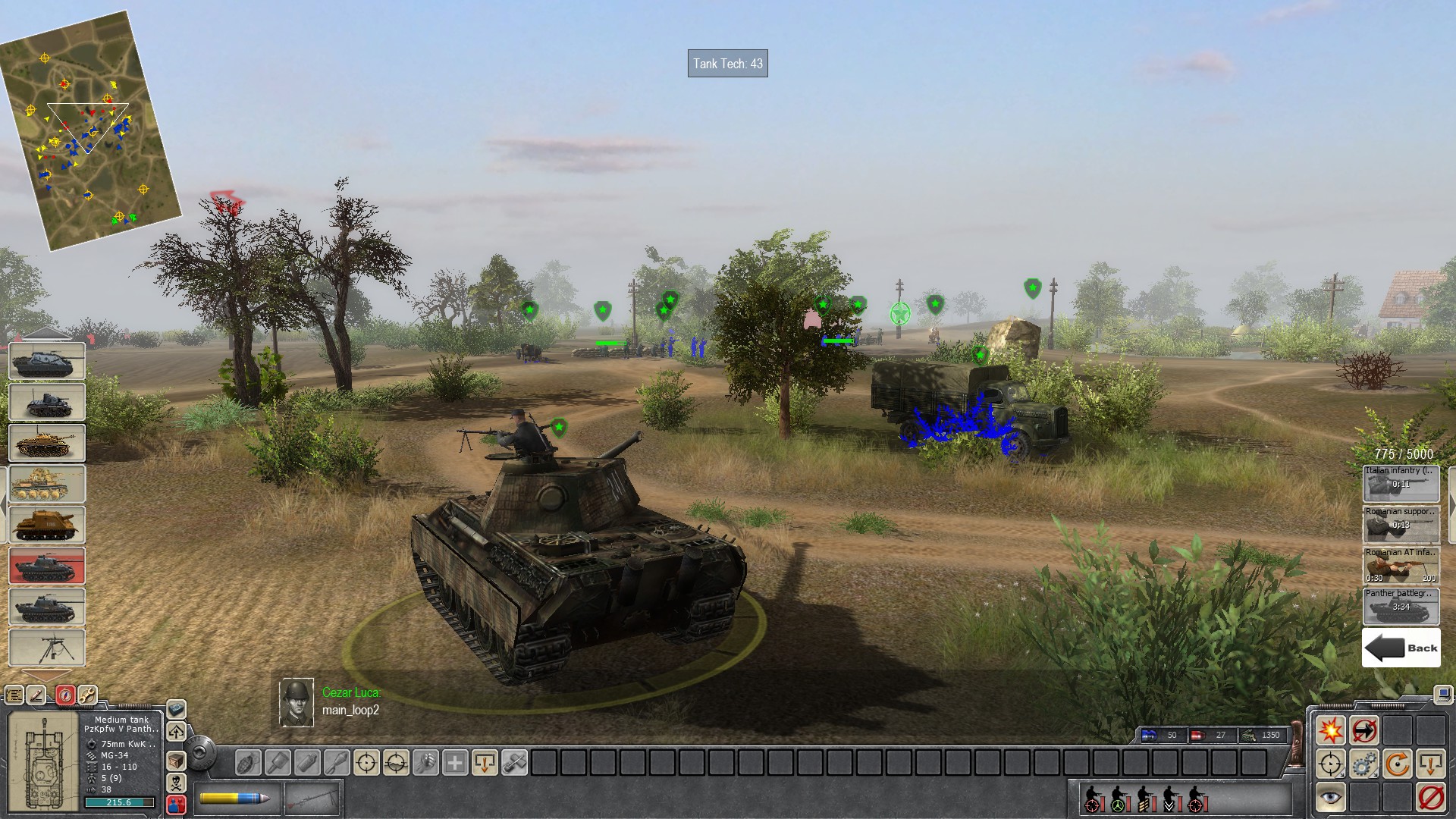 Several new units in action: Axis Foreign Army on the offensive with Pz.kpfw. VI Ausf. B (Porsche), Volksgrenadiere, Panther Ausf.G and Pz.Kpfw. IV Ausf. J.