Hello folks!
It's getting chilly day by day everywhere in Japan. How is your country?
I'd like to introduce the vehicles that was not mentioned in the previous news.
There are 6 of them.
---
Anti-Air Gun
- M167 Vulcan Air Defense System (VADS)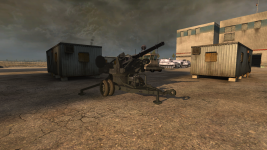 Here's a tractor type anti-air asset (AAA) that would be located in the maps.
VADS is an anti aircraft gun system invented in the U.S. It uses M61 6-barrel gatling cannon.
This fixed AAA will provide an extreme effectiveness upon attacking on aircrafts.
M167 would be used by the U.S. and the UN.
- ZPU-4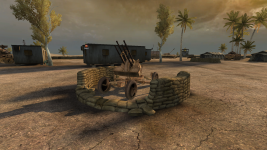 Here's another tractor type AAA that would be used by eastern countries.
ZPU-4 was manufactured in USSR right after the WWII. It's 4-barrel, manned asset.
ZPU-4 would be used by MEC and CHPLA(China).
Mobile Artillery
- M109
M109 is a self-propelled gun manufactured by the U.S. Army.
This vehicle has one 155mm howitzer that can be rotated.
M109 is a common indirect-fire support vehicle in the Western countries.
This would be used by the U.S. military and the UN PKO force in the game.
- 2S1 Gvozdika
Gvozdika is a mobile gun that was invented by USSR during the 60's.
It has 122 mm gun on its body. Due to the gun that is smaller than that of M109, it provides the next shot a little faster than M109.
2S1 is imported to many of the Middle Eastern countries, and also manufactured in Poland and Bulgaria.
This would be used by MEC and CHPLA forces.
- M270 MLRS
M270 is a U.S. army self-propelled rocket artillery of the U.S. Army.
It provides an effective wide range attack on designated coordinates with its multiple rockets.
This would be used by the U.S. and the UN forces.
- BM21 Grad
BM-21 Grad is a Soviet mobile rocket artillery that is usually mounted on a truck or other large vehicles.
This is the most used rocket artillery system all over the world.
Just like M270, it would provide an wide range attack.
This would be used by MEC and CHPLA forces.
Special thanks to USI team upon using all these vehicles!
Also, the newly modified skins of mobile artillery vehicles are created by SuzukiWYS, who diligently cooperates with us. Special thanks to him!
---
The release of v0.32 is getting closer. Even I (as a member) can't wait for the official version of v0.32!
The next news would also be released around the New Year's Day, so it would be late Christmas Gift for you guys.
See you on the battlefield!
y-shin