Hi folks,
This time we have quite good news for you. We're sure it'll make you much interested.
---
Support us by voting!
We just created this MiniMOD page in October, and we're not gaining fame so much yet. However, we're ambitious enough to be successful in MOTY.
When we get well-known, we'll be motivated much more and we beg some cooperation from modders all around the world.
So we beg your vote on us and look forward to our development in the future!

Progress in developing the upcoming version: v0.32
We're doing well on keeping the development go smooth.
Currently we're working on beta test inside the team since the first week of December.
We'll be releasing v0.32 around the New Year's Day if there's no problem.
Installing ESAI
In the upcoming version v0.32, we decided to install ESAI, a.k.a. Enhanced Strategic AI created by Void.
MiniMOD SP and Coop gameplay would be much fun thanks to ESAI.
ESAI is a fantastic content that is compatible with original BF2 and various mods out there.
You should be trying the feature of ESAI if you love SP / Coop modes.
Special thanks to Void and ESAI team upon giving us the permission to use.
ESAI - ModDB
Adding contents from USI mod
We're now able to use some of the USI contents after the dev team gave us a green signal.
They would bring the new perspective in playing MiniMOD.
US Intervention deals with the era of Gulf War I. They've been creating various contents and still they continue to release the new versions.
It's our honor to use the contents of this brilliant mod.
Special thanks to Goedoe and US Intervention dev team to let us use the contents.
US Intervention - ModDB
M60 Machine Gun
Now we're gonna introduce the new contents in the upcoming version.
Here's M60 MG.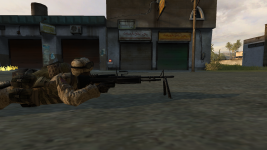 We've been looking for the counterpart of PKM, which should be 7.62mm LMG and handled by USMC.
This powerful weapon would do a great job in being the perfect counterpart.
M60 LMG would belong to support solders of USMC and UN.
M60 3d model is brought by USI.
SMAW, AT-4, and RPG-7 rocket AT weapons
The next things are anti-tiank weapons.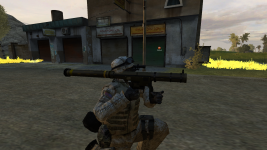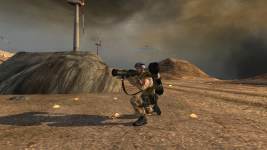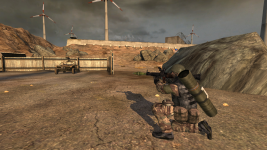 SMAW belongs to USMC, AT-4 is held by UN's AT solder, and RPG-7 goes to MEC and CHPLA (China) factions.
SRAW and Eryx becomes pick-up kits.
SMAW,AT-4,RPG-7 3d models are brought by USI
---
These are all about the today's update.
We'll still have additional contents from USI, so the next news will reveal about the rest of them.
See you on the battlefield!
tekktekk