Hello fans!
I apologize, because this news post was suppose to happen a few weeks back! My laptop's charger broke and I had some problems with shipping. Everything it fixed now though! I'm glad to be back on the game, and the team is glad to have me back. We've all been working very hard! I do need to thank everyone on my team for their hard work and contribution. We are also hiring one more texture artist if anyone is interested please send me a PM.
On to other matters now!
Nick has taken up some concept drawings and I hope you all are as impressed with them as I am. He is very talented and we are glad to have him on the team. He has also been hard at work with the car models. Here take a look for yourself on what to expect with Pressure!
There are also plenty more that he has done. Although I will let him post those on his own time ;)
Jake has been making great progress too on his end. I've actually been having trouble keeping him busy because he gets everything assigned to him done so fast! Here are a few SS's of his work in game.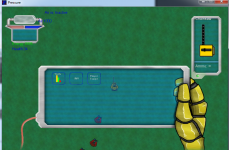 That is our new GUI.
Onto things that I have done.
I've implemented a new Inventory system that may or may not change. I've also fixed the car physics to make the react like what I'd think a hover car would act. It's truly hard to code physics for something that you have no clue how it should react to it's surroundings. I did my best, and it's great. It's hard to actually show the work that I've done without a video so once I finish working out all the kinks on my end I promise to post one.
I can't tell you how much progress the game has made in a percentage or how far done it is, because we are constantly coming up and implementing ideas into the game. With the way things are going I can promise a release in mid to late 2013. I do plan on changing the way safe zones work though. Instead of having it to where the player can create safe zones where ever and when ever. They will randomly pop up around the map in places. It's your choice to go and help the civilians or kill them and loot their camp. We are taking in any ideas from the community and will more then likely implement any that sound good to us! So be sure to contribute to our amazing project!