Hello shooting aficionados! Glad you're here for a read. Today we're going to talk UI for a bit.
If you could not tell by now, our in-game interface was an ugly mess. Admittedly it was nothing but a placeholder up until today. In game development you often have to cram things in just for the sake of having them there. "We'll make it shine later one" is one often heard phrase.
And especially when working in a tiny, little team like ours you often have so many different tasks demanding your full attention that at times, you simply don't manage to revise the most obvious, ugly placeholders that somehow stayed for ages. Like that old dummy interface.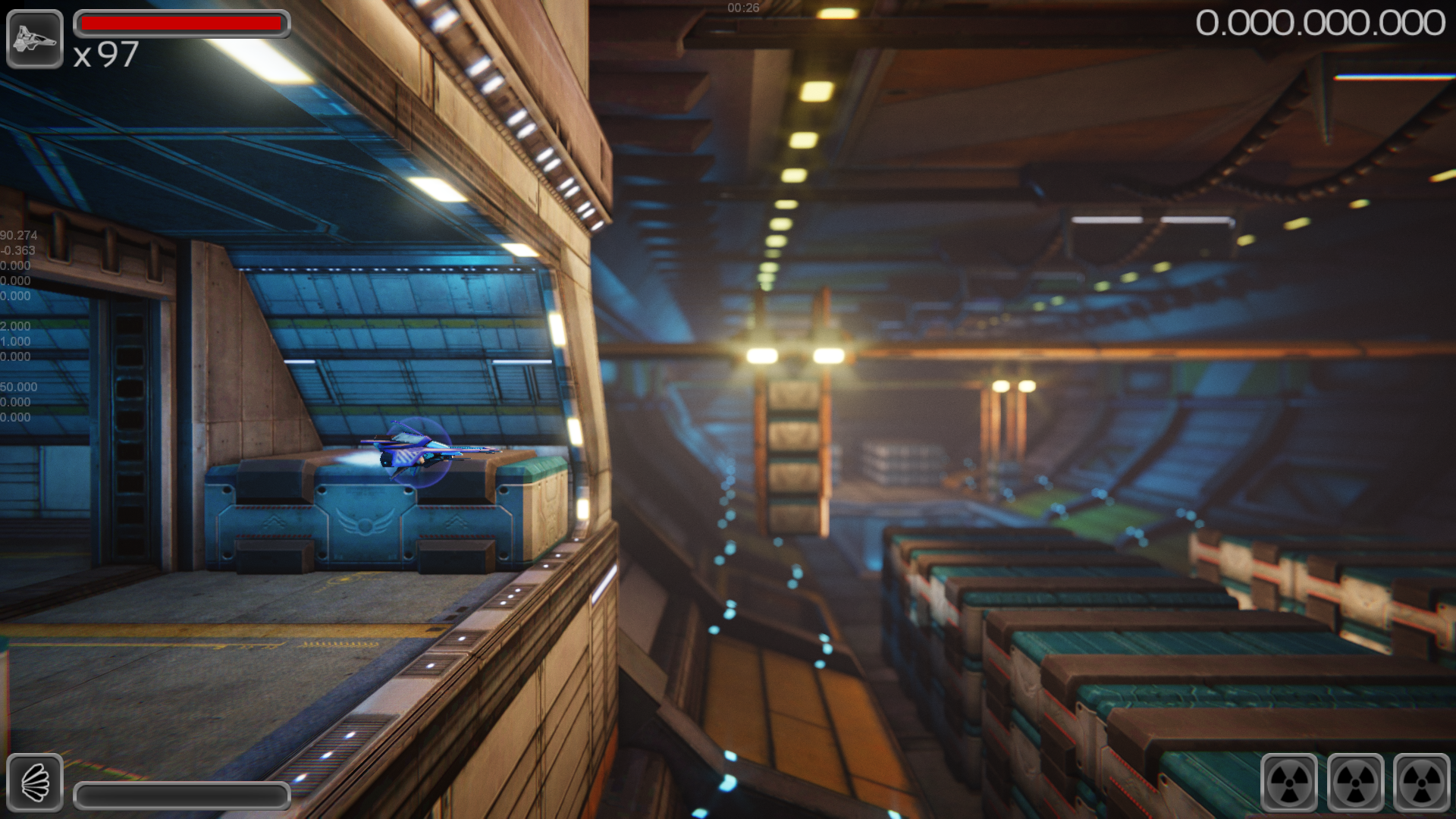 Yeah, that's the RFA interface you've come to like, ain't it?
But guys, I've really had it now. We can push out as many nice shots as we like; they'll always suffer from these grayish boxes. So I grabbed a screenshot and my trusty Bamboo and designed away.
My goal was to make the new interface simple, modern and elegant. The player has to catch all necessary information literally within the blink of an eye. At the same time I removed all redundant and unnecessary elements as well as those that became obsolete after recent design changes.
And here's the current UI mockup version that came out!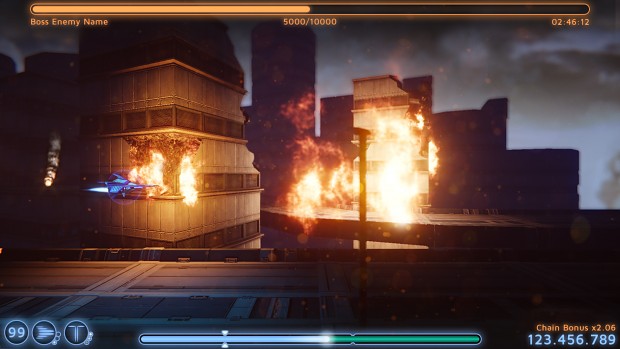 Health bar and smart bombs, be gone!
Let's have a look at all the elements.
Stage boss info area: The top of the screen holds everything you need to know about the end-of-level-baddie, including hitpoints, remaining time and even its name. The latter's not really a necessary element you might say, but it makes the battle a bit more personal when you know your opponent's name. All this will only be visible during battle and remains hidden otherwise.
Player ship info: Down left you find your remaining lives as well as your current main and side weapons, both with their current power levels. Yes, that means you can wield two weapons at a time and increase their strength during play!
Power bar: Located in the center of the bottom screen is your power bar. This gameplay element has recently been reworked and it became more important to the game, therefore its UI element is fairly large. I'll go more into detail on this in one of our next posts, promise!
Score info area: And finally, there's your score and the current chain bonus value in the bottom right. The latter is something new as well. Now the game checks if you destroy complete waves of enemies and eventually gives you an increasing bonus. Miss only one enemy and it all goes down the drain. Really cool feature for top score players!
Now that I can carry over to actual implementation, I'm going to make sure everything is as responsive and juicy as possible. I think the details of this undertaking would make an appropriate topic for one of the next updates, so stay tuned!
That's all for now, everyone. Keep on shooting!
Marcel