So we've FINALLY posted a new version, but it's not like we've been sitting around all this time, we've been cranking away at adding a boatload of new features, 2 new characters, items, armors, skins, new moves, and more! Here are some quick previews of our latest additions to the character roster:
Cesar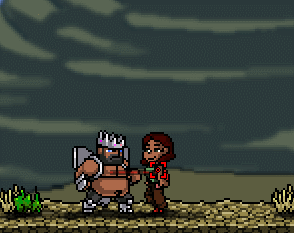 Keeran
Keep in mind that these characters are VERY early still in development. Cesar has some of his attacks but Keeran right now only has movement. Most of our time was actually spent updating previous characters and adding new moves, tweaking previous moves, etc.
Anyway, I hope you'll give our latest version a shot!
Check the downloads section (It's the 'Fighting Game' one) for the version!