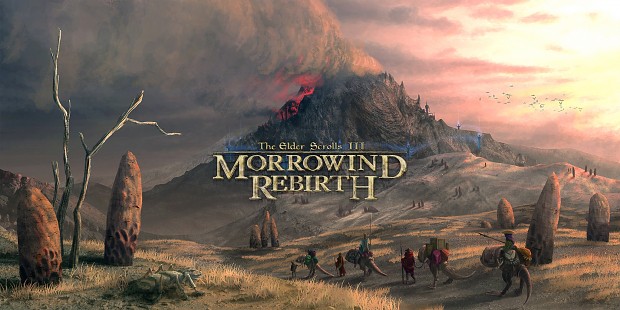 Hi guys and welcome to a small preview of 4.0 (more to come)! I know it hasn't been long since the release of 3.9, but I've been real busy with this one! I'm providing you with a preview in the hopes of getting some feedback before I release it publicly. Please let me know what you think.
Morrowind Rebirth - Main Plugin

Vanilla Fixes
* Ranes Ienith will no longer carry two glass jinkblades.

Morrowind Rebirth Fixes
* Removed sneak script, which made guards follow you while sneaking, as it didn't work as intended and created several AI issues.
* Removed misplaced lock-script on Dren Plantation, Shipping House door.
* The door to Gorvas Vule's Tower cellar is no longer inaccessible.
* Added AI-packages to Hill Giant, Frost Giant and Frost Monarch.
* New improved icon for Absinthe.


Morrowind Rebirth Changes
* Sirollus Saccus no longer provides an unlimited amount of secret masters hammers.
* Dark Brotherhood assassins apparel are now visually different based on rank.
* Arrille, Seyda Neen, now has a few more basic spells for sale.
* Andrades's Tradehouse, Balmora, has recieved a minor overhaul.
* Seyda Outpost, Seyda Neen, has recieved a minor overhaul.
* Daedras will no longer spawn in the wild.
* Fixed hundreds of floaters.
* Fixed typos.


Morrowind Rebirth Additions
* Expanded Samarys Ancestral Tomb, the tomb where you can find the Mentors Ring.
* Visual enhancements here and there.
* New creatures:
- Skeleton Marksman (crossbow)
- Skeleton Lightning Mage
- Skeleton Frost Mage
- Skeleton Fire Mage
- Lightning Guardian
- Frost Guardian
- Fire Guardian


Balancing

Creatures
* Fire/Frost/Storm Atronachs will no longer cast shield Fire/Frost/Shock shield.
* Dwarven Spectres are now immune to poison and paralyzation.
* Bull/Betty netches now have a 75 % resistance to poison.
* Ancestor Ghosts are now immune to paralyzation.
* Storm Atronach speed from 14 to 18.
* Earth Atronach speed from 9 to 20.
* Frost Monarch speed from 15 to 45.
* Frost Giant speed from 15 to 35.
* Hill Giant speed from 15 to 45.
* Lich health from 280 to 300.

Potions
* Changes to potion weight:

- Exclusive potion weight from 0.25 to 0.50
- Quality potion weight from 0.50 to 0.75
- Standard potion weight from 0.75 to 1.0
- Cheap potion weight from 1.0 to 1.25
- Bargain potion weight (1.5)

* Changes to all fortify potions:

Magnitude
- Fortify: Bargain magnitude from 5 to 6
- Fortify: Cheap magnitude (8)
- Fortify: Standard magnitude (10)
- Fortify: Quality magnitude from 15 to 12
- Fortify: Exclusive magnitude from 20 to 14

Cost
- Fortify: Bargain cost from 5 to 20
- Fortify: Cheap cost from 15 to 40
- Fortify: Standard cost from 30 to 60
- Fortify: Quality cost from 60 to 80
- Fortify: Exclusive cost from 90 to 100

* Changes to all beverages:

Magnitude:
* Cyrodiilic Brandy fortify willpower/endurance magnitude from 20 to 10.
* Sujamma fortify strength/drain intelligence magnitude from 25 to 20.
* Shein fortify endurance/drain personality magnitude from 20 to 15.
* Nord Mead fortify strength/drain agility magnitude from 30 to 25.
* Mazte fortify strength/drain willpower magnitude from 20 to 15.
* Telvanni bug musk fortify personality magnitude from 25 to 15.
* Flin fortify willpower/strength magnitude from 20 to 15

Weapons/Armor
* Bound weapons/armor no longer provide any additional skill bonuses when 'conjured'.
* Decreased the value of devil, demon and fiend helmets.
* Azura's Servant value from 25450 to 14250.
* Telvanni Dust Adept Helm AR from 5 to 8.
* Telvanni Mole Crab Helm AR from 6 to 10.
* Snow Bear Armor AR from 35 to 40.

Spells (base cost)
* Weakness to Fire base cost from 0.25 to 0.2.
* Weakness to Frost base cost from 0.25 to 0.2.
* Weakness to Poison base cost from 0.25 to 0.2.
* Weakness to Shock base cost from 0.25 to 0.2.
* Weakness to Magica base cost from 0.25 to 0.3.
* Detect Enchantment base cost from 0.5 to 0.8.
* Detect Creature base cost from 0.5 to 0.8.
* Detect Key base cost from 0.5 to 0.8.
* Resist Magica base cost from 0.5 to 0.6.
* Resist Shock base cost from 0.4 to 0.3.
* Resist Poison base cost from 0.4 to 0.3.
* Resist Fire base cost from 0.4 to 0.3.
* Resist Frost base cost from 0.4 to 0.3.

Spells (general)
* 'Free Action' (cure paralyzation on self) changed from self to target.
* God's Fire/Frost/Spark magnitude from 10-50 to 15-30.
* Summon spells duration from 60 to 45 seconds.

Enchantments (items)
* Feather Ring, Feather Belt and Feather Shield enchantments:
- Feather magnitude from 20 to 50.

Birthsigns
* The Lady
- Fortify Personality/Endurance 15/15 points to 15/10 points.
* The Mage
- Fortify Maximum Magicka 1.0x INT to 0.8 x INT.
* The Lover
- Fortify Agility 25 points to 20 points.
* The Lord
- Restore Health 5 points for 10 seconds to 8 points for 10 seconds.
- Weakness to Fire 50 % to 25 %.

Ingredients
* Sapphire value from 175 to 150.
* Ruby Value from 150 to 125.
* Topaz Value from 125 to 110.
* Emerald value from 100 to 95.
* Pearl value from 100 to 90.

Misc
* Vampire bonus to sneak, athletics, acrobatics, hand-to-hand, unarmored, mysticism, illusion and destruction from 30 to 15.
* Removed Nordic Silver Weapons from Solstheim smuggler/berserker leveled-lists.
* Fortify/Drain attribute have been removed from spellmaking/enchanting.
* Aundae, Berne and Quarra extra skill bonuses magnitude from 20 to 10.
* Vampires now have a constant effect Night Eye of 25 points.
* Marshmerrow spawn chance from 10 % none to 25 % none.
* Wickwheat spawn chance from 10 % none to 25 % none.
* Saltrice spawn chance from 10 % none to 25 % none.
* Ash Yam spawn chance from 20 % none to 25 % none.
* Chokeweed spawn chance from 10 % to 20 % none.
* Decreased the value of most common books.



Morrowind Rebirth - Racial Diversity

Changes mainly to counter the fact that you can easily cap resistances early on, making you invulnerable to a specific damage-type for the rest of the game.

Bosmer
* Blood of Auri-El
- Resist Common Disease 75 points to 50 points.

Altmer
* Vigorous
- Resist Common Disease 75 points to 50 points.

Imperial
* Call To Arms
- Command Humaniod 10 points for 30 seconds changed to Calm Humanoid 30 points for 10 seconds

Dunmer
* Ashborn
- Resist Fire 75 points to 50 points.

* Protective Spirit
- Sanctuary 50 points for 30 seoconds to 25 points for 30 seconds.

Nord
* Winters Bone
- Resist Frost 75 points to 50 points.

Orc
* War Cry
- Demoralize Humanoid 15 points for 15 seconds to 50 points for 10 seconds.

* Battle Hardened
- Fortify Attack 5 points to Resist Magica 25 points (vanilla).
- Changed name to "Hardened"

Redguard
* Naturally Resistant
- Resist Common Disease 75 points to 50 points.

* Whirling Charge
- Removed.


All the best,

Trance