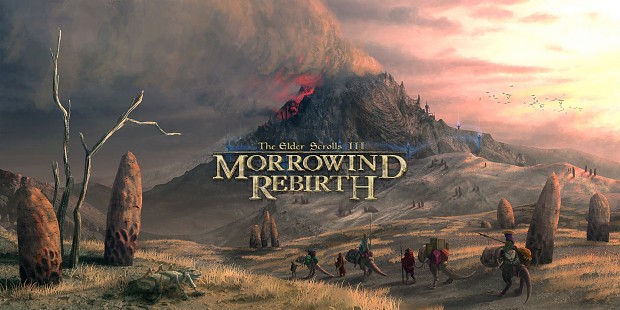 Its been about a week since I released the new update for Morrowind Rebirth. 2.0 introduced a lot of new stuff and I really hope that you enjoy what I've done! If you haven't played it yet, this is the time!
In the meantime I've been working on a small patch for Rebirth 2.0 and I hope this patch will fix most issues. I don't know if there's anything else (check changelog) that needs fixing cause I haven't really had time to give it proper playthrough. Reports of both vanilla issues and issues introduced by Rebirth are welcome. The new patch will also introduce some changes in game settings, plus some new interiors that I didn't had time to do for 2.0.
Changelog
General Fixes
* Indaren Ancestral Tomb is occupied by Daedra, but should be occupied by undead according to a note found on the dead body of Tyronius, (sc_Tyronius).
* Fixed a few chests that had 0 locks, thus making them impossible to open.
* Put new Imperial armors/weapons into leveled-lists.
* Changed the name of "Long bow" to "Longbow".
* Changed the name of "Daedric Realm" to "Deadlands".
* Fixed a few issues in the leveled-lists.
Game Settings
* 50 % higher chance to catch a disease by diseased creatures.
* 25 % harder to pick locks instead of 20 % as in previous versions of Rebirth.
* You can now get up to 100 AC when having the skill "unarmored" maxed, instead of just 65 in vanilla.
* Raised the bounty for attacking people from 200, to 250.
* Increased the speed of thrown weapons and projectiles by 50 %.
* 20% less chance to be knocked down during fights.
* Incresed the amount of damage you take while suffocating from 3 to 5 damage each second.
New interors
- 2 Shacks in Ebonheart
- Guard Tower in Suran.
- Tavern in Suran .
Like I said previously there will be more fixes and additions if you guys have anything to report.
Mod of the Year
Once again it's time for the Mod of the Year awards! I don't consider Rebirth to be among the top mods but if you feel diffrent you're very welcome to put your vote on Morrowind Rebirth. I'd be happy for your support!