Hi viewers Vector8Games has a few questions, about what makes a mod page appealing and draws your attention.
--
Do you enjoy the art and images, is that a reason you visit, too see more.
Do you enjoy seeing concept, sketches or in game visuals more? And which one is more appealing?
Which catches your eye more a good sketch or a colored concept?
What kind of interactions would you like to see in this single-player horror fps?
You may answer these questions through email or new reply.
--
Important viewer questions,
Question:
looks pretty good. But I would like to know will this be more survival orientated of serious sam-ish, either way Keep it up!
Answer:
Our game tries to use new ideas that takes away from the standard zombie based game; for one, our game is non-linear, so it plays like Dead Rising, or GTA in the sense that you can choose to start missions or not. Zombie based games tend to take place in post-apocalyptic times, our game puts you in a pre-apocalyptic setting, day one if you will; However, the military does not want the rest of the world knowing of its happening, so they quarantine the town, no-one in, no-one out. As the game progresses, the world becomes more and more aware of the situation, thus shown to the player on news stations and the like.
Mainly, we want to create a zombie based game, that does not feel like a traditional zombie game, a new take on survival-horror.
Question:
wow awesome, will be watching this, but isn't the Berserker a lot like a tank from left 4 dead?
Answer:
We had this comment on interlopers and I will answer you the same way I answered them. The tank has been around since the beginning of gaming wither it's a giant robot with only one weak spot or an ogre with tough skin. It's the resemblance between the semi-new release of L4d and our game, the main reasons they can be related is, one there both are tank arch-type and two it's a zombie genre game. So no the Berserker was not influenced by the tank in anyway.
Question:
Still nothing 3d?
Answer:
At the moment kind of, we have a few gun models done but they are not texture so we will not be releasing pictures until they are. Also our first zombie model is in progress it should be done give or take awhile. Pictures will be uploaded of the zombie UN-textured and textured when it gets to that stage.
Thank guys for your questions, if there are anymore please tell.
--------
The map is based in our town New Denver, in Canada, it's a fairly small town but a fairly big map. The picture below is of the border and the key features in our town such as our school, hotel, bar, restaurant, gas station, hospital, campsite, convenience stores, outdoor goods and internment camp.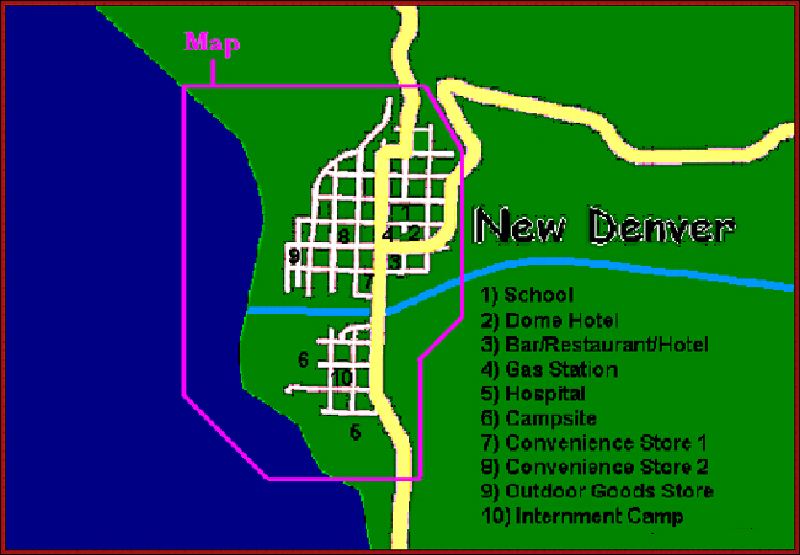 -----
Summary of storyline,
The protagonists eyes peeled open, his head was pounding from the night before. His tired sore eyes glanced at the clock... 8:45am.
"Shit!"
He stood, a beer can crushed under his weight. He was late he's always late. After pulling on his black hoodie, he opened is bedroom door. After jumping over a laundry basket and crouching under his fridge leaning against the wall, the protagonist found his way outside. As he jogs up a gravel curve he hears a loud pop in the distance; ignoring it he continues to school. Arriving just as the bell rings, he takes his seat.
--
We will be releasing a paragraph a day on the storyline to keep the viewers interested.
--
Thank you for reading,
Vector8Games.