N ew features have been released for the game in the new update 0.0.2. With this I have added some nice new topics, including "Skateboarding" and "Roller Coaster", and new engine parts like "U.I.", "Spritesheets", and "Background Music". The full information is below.
---
Six New Topics
Four New Engine Parts
Two New Achievements
And the new console, the Play System Vinta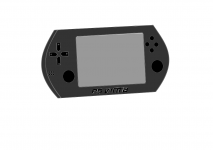 The early concept of the Play System Vinta
That's all for this update, 0.0.2. Click that follow button to get notified of more updates! The website has been put up, so go check that out too! Thanks for reading, and see you next time.