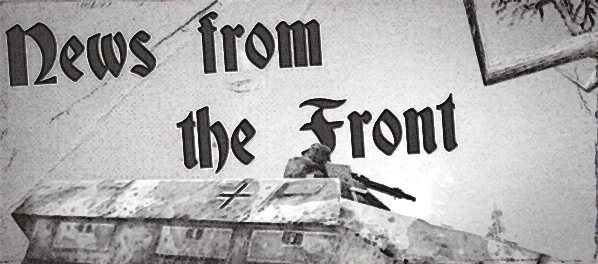 Hi everyone,
Tskross here,
I just wanted to let everyone know about a couple of things going on with BotB:
The patch, We all know the patch has been a long time in the works...why? I hear you ask...
A couple of reasons, for one thing we wanted to wait to make sure we could fix as many bugs as possible, instead of trickling out small quick fixes here and there, also some of the bugs that seem like simple problems turned out to be a bit more complex. Also in order to preserve gameplay we wanted to make sure that we found the root cause of the problem and fix it there, which in some cases has been harder than anticipated. Also this will not just be a simple bug fixing patch, there will be new maps and some new skins included also which we have been working on as well. We understand the frustration of some of the bugs (i.e. the panzershreck bug) but we want to make sure that they are dealt with correctly. I know we've been saying that this patch is coming soon, and Halftrack as told me that it is 90% ready, but he has had an extremely busy past few weeks in RL and is now on an extended vacation and will not be back for a couple months but he hopes to have it out asap after he is back. He has expressed to me his extreme disappointment in not being able to get it out before the new year and wants you to know he is working on it as fast as he can.
On a lighter note, I have posted a skinpack with 4 skins, the 2 previously released for the Jagdpanther and JagdpanzerIV along with the Hetzer at full resolution (the original hetzer and jagdpanther skins were based on the skin from the beta test of OF ad were at half resolution) and the Maultier Panzerwerfer, the last two are WIP, the Hetzer will be completely re-one for the next patch and the Panzerwerfer is as good as I could do with the current limitations of the model, hopefully I can work with halftrack to get it up to the 'BotB standard' for the patch as well. You can download them at ModDB:
Axis Armor Skinpack Update
Note that these will not affect your ability to play online as it is the attribute folder, not the data folder that is checked for compatability
Please take a moment to head over to vote for BotB as one of your favorite mods of the year!, we need to get into the top 100 to make it to the next round of voting, and as of this writing there are 10 hours left to get your vote in!! It would really mean a lot to the team to make it into the top 100 and would bring many more players into the game, which would be good for our community and for online matches! If you register with ModDB your vote counts as double so if you have a couple of extra minutes it would be much appreciated, and while you're at it you could sign up to be made an honorary member of the BotB mod team BotB mod team on modDB
If you feel like you would like to go that extra step we are looking for someone to write a review, a strategy guide, or any kind of feature (could be a historical discussion or a focus on a particular unit etc etc) to post as content on the BotB and the ModDB pages, it would really help with the visibility of the mod (and our chances of making the top 100!!) but also to generate interest in BotB to people who might be curious about what it is and how it differs from VCoH, go here to find out how you can help: Writers Wanted
Also BotB will be featured in a (small) write up in issue 17 of Total PC Gaming in their mod review section!! Cheers to Halftrack for the much deserved attention ;)
Last but not least it is time for us to ask for your financial help. Fiffa has been kind enough to provide us with free hosting up till now, but since we don't want to be freeloaders :-\ we are asking for donations to help offset his cost. If you can spare any change please click here Donate Now to help.
There are lots of exciting changes coming to BotB over the next year, and while it may seem like things have been quiet Halftrack has already been working on ideas for the next version, V3, like the much anticipated move of removing base building, making the gameplay even more tactical and bringing a new level of realism to BotB!
Until Next time this is Tskross signing out
and please don't forget to vote!!