→
EDITED NEWS

⟩

COMING NEXT TUESDAY!
To be released on April 21
The new Maschinenpistole 40 (MP 40) weapon model — extracted from The Dark Army: Uprising — for Return to Castle Wolfenstein will be out soon, exactly on next Tuesday (April 21, 2015) at 12:00 UTC, on Mod DB only! It will be compatible with each version of the original game — a Windows .exe installer will be released and, following your suggestions, it won't pollute your registry. However, it won't be compatible with Mac and Linux systems (and there there are no plans regarding a release on both of these systems).
You should also note that this gun will not be available in the multi-player game mode; it will not erase the old MP 40, both will be in the directory (the old one will be used for multi-player and the new one for single-player). You'll also be able to un-install this weapon model at any time.
No sound files and no hand textures will be included - only the weapon model and its texture files will. You'll have to add yours.
Licensed product
For the moment, it has been decided that this work will be licensed as:
Attribution-NonCommercial-NoDerivatives 4.0 International
(CC BY-NC-ND 4.0)
For more information:
Creativecommons.org
It's free to use and to share-it.
However, it won't be authorized to share a remixed version.
If you want to share a remixed version, you will have to contact-me.
Note that you will be free to use it as long as you mention me.
You'll have to mention "TITEUF-85" and/or "TITEUF-85 Prøductions".
You must give appropriate credit, provide a link to the license, and indicate if changes were made.
You may not use the material for commercial purposes.
If you remix, transform, or build upon the material, you may not distribute the modified material except you contact and mention me.
You may not apply legal terms or technological measures that legally restrict others from doing anything the license permits.
---
The famous form about your favorite gun of The Dark Army: Uprising has been closed more than ten hours ago, and I'm proud to announce the winner!
The form's results
Again, I want to thank everyone for participating to such a poll. It was great!
I didn't expect to get much votes! It took me time, but I synthesized everything.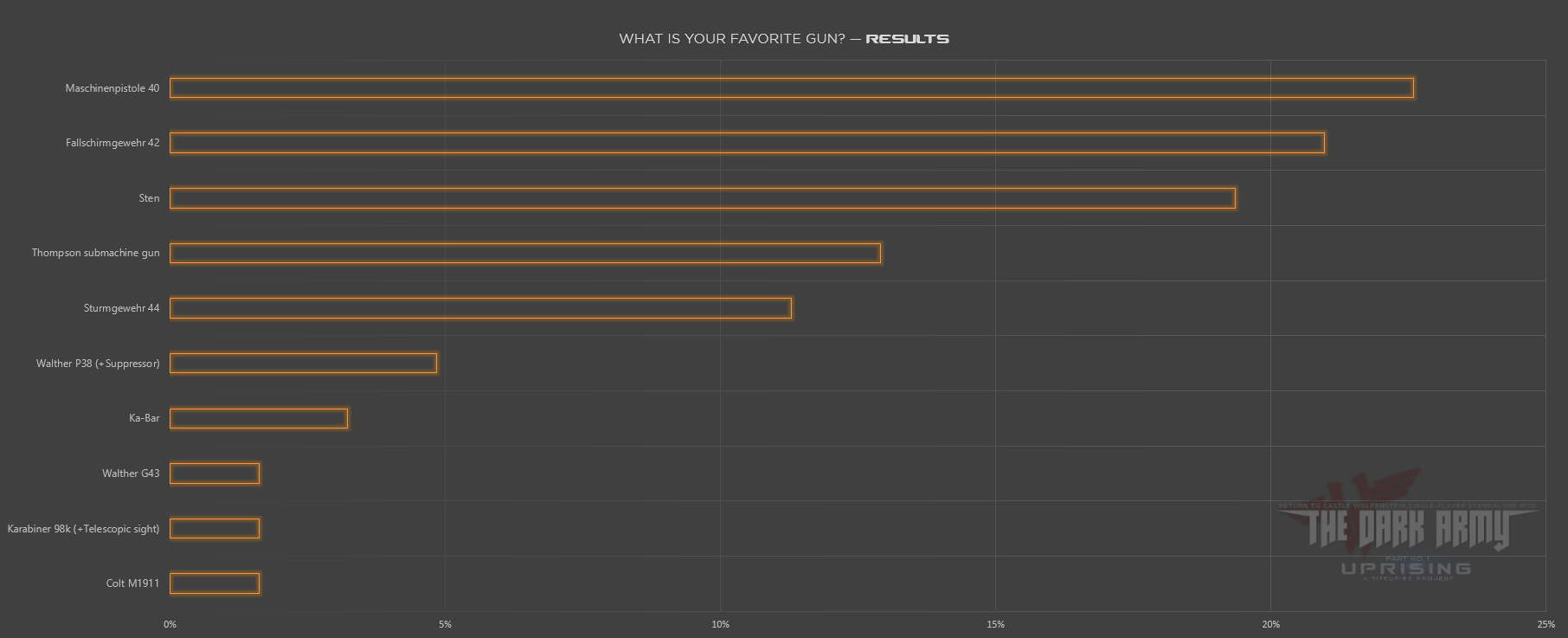 Form's winner
I'm really proud to reveal the winner of this poll: it seems that a majority of The Dark Army: Uprising fans voted for the Maschinenpistole 40 (MP 40)! Unfortunately, I wasn't really sure it would win the battle: it was really tight between this gun and the Fallschirmgewehr 42 (FG 42), as well as the Sten! I can assure than you will earn this winning gun, and you won't be disappointed!
To be released soon
As I'm hardly working on The Dark Army: Uprising, the packaging of this gun can't be done right now, and some checking has to be done before; regarding this fact, I can easily confirm the winning gun's release: it will be between April 10, 2015 — April 27, 2015!
How it will work
An automatic installation executable is in the works! You will just have to own a legal copy of Return to Castle Wolfenstein™. Updated or not, your version of the game will be compatible with this beautiful Maschinenpistole 40 (MP 40). Just make sure you've got the original game.
What to expect
Note that it's an exceptional offer I'm making here: I'm releasing a gun of the mod! It's a long and devoted task towards the fans of The Dark Army: Uprising! That's why it will only happen once before the release of the complete modification. I won't be releasing any other content of the project separately before its original release.
When this gun will be released, I will fully return to the development of the mod.
As the development will reach an end soon, I will be totally absent from the web, until summer.

As I informed you last month, I will be back in Summer with important stuff to show about the project.
Can't tell more unfortunately, sorry. I hope this gun will help you to wait for the complete product.
✔ Thanks to all Return to Castle Wolfenstein fans for playing this game,
keeping it alive and for supporting my project's development.