So after getting the approval from Apple on DYNOSTIC v0.2 we decided to make some adjustments to the game. First off we changed the game engine we were using. The previous versions were done using Game Salad, which allowed us to release the game for iPad. This new version was made using Stencyl, which we have liked much more! We decided to make this new version to be played using a web browser as our first trial with the new game engine. This means that the controls will now be the classic up, left and right arrow keys on the keyboard.
Secondly, we wanted to add COLOR to give it more visual appeal. So we designed a starry space background, and made a new version of each character themed stage with colorful pixels.
Next, we tweaked the game play. The main goal now will be to recollect items while avoiding to crash agains the terrain or obstacles. There will be a Training Mode and a Quest Mode. The Training Mode is basically static stages where the user can see the whole area that is to be explored in search for the three items that are required to pass the stage. The Quest Mode will also consist in recollecting items but there will be scrolling stages, and a surprise or two in hopes of making it more challenging.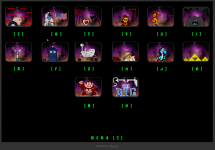 For the moment we are still testing the video game. Check out the sample video!
We hope to have it ready for its release really soon, so stay tuned!