We made an important decision recently about the first release of Legends of Strife. Originally we were really eager to put a first alpha version online as soon as we finished the starting area of El Clease. We were getting really excited because we were just about done... and then it hit us: there's no town sieges, no giant pvp area and El Clease is only really a small part of the world we're building. This means the Alpha we would've put up wouldn't contain the real essence of the game we are trying to make.
We've decided to put out our release date in exchange for putting more content in game. We soon got over disappointment of not releasing when we started discussing what should be added to make the game properly reflect how we imagine the full version to feel. Here is the main changes and features we are now planing for first release. (None of our progress will be lost, we are just adding things that we were planing an adding after release anyway. We also plan on adding more after release but that's a different story)
Level 15 level cap (would have been level 6)
4 zones (instead of 1)
Introductions to the two main factions
Full pvp zones with functioning town sieges
If you want specifics on Law or mechanics feel free to post a comment. In the mean time I can introduce you to one of the new areas: Trestia Valley. I've completed the base map without trees so far.
Our programmer has been creating a DirectX renderer. Previously we only had an Open GL one. This will boost our compatibility with windows pc's greatly and possibly give us a performance boost. The only problem is that it's rather difficult to show you the progress in that regard, so you'll have to do without a screenshot.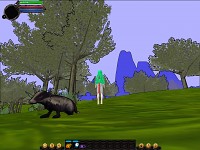 Other than that... badger!