Hello everyone!
This supposed to be New year update but due unforeseen consequences this news had to wait until now.
Anyway update is here and this time it´s nothing smaller than Forgotten epic unit. Something that was in my mind for very long time. Main inspiration for me was MARV from kane's wrath and Unreal tournament Leviathan but visually I wanted something based on those huge american dump trucks and also something that looks like land battleship.
So I have put all those ideas together and you can see the result for yourself. Of course it is still WIP so there might be some changes over time also your response do matters so leave comments and you opinions below.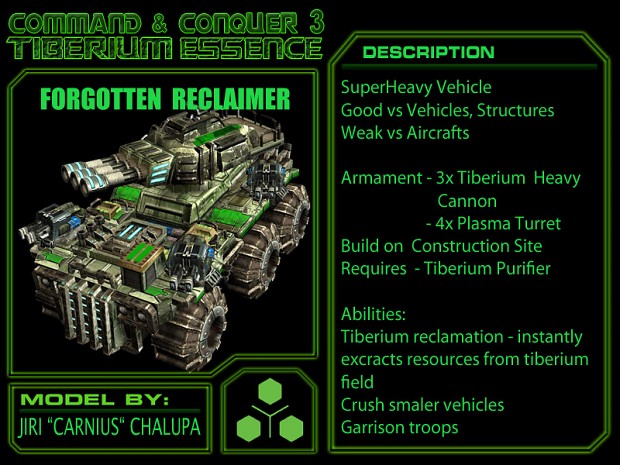 The philosophy behind this units is based on several elements that is characteristic for forgotten as faction salvaged vehicles and mastering use of tiberium that compete even with scrin. Also there is idea of reclaiming land either from the enemy or from the tiberium infestation, reclaim tiberium in its purest and harmless form. Therefore we get reclaimed reclaimer that is powered by reactor based on blue tiberium, which is normally unstable, but Forgotten managed to solved the stability problem and provide their army with very powerful weapons which allows them to
create competitive fighting force.
One ability based on that reclaiming idea is going to be ability which destroys tiberium crystals in small area and replace them with easy to collect piles of resources - tiberium in its purest form, basically small money crates that looks like crystals. Its fast way how to boost your income, but you extract only small amount of money from crystals this way, so it is best used on distant tiberium fields. Overall its similar to marv tiberium "eating" ability, but under you control.
Also you can garrison troops on Reclaimer, but probably only one squad. This is due engine limitations that cause more than one garrisoned troops inside a vehicle get stuck and been unable to exit vehicle any further. But maybe in case of this unit it can be explained in description that this is one way ticked for your squads and leave it that way.
Main cannon is designed as anti-structure weapon at this moment, secondary weapons are anti-vehicle, no AA weapon at his point hance you can garrison troops with AA weapons on board .
So its rather siege unit with support abilities that assault overkill like Mammoth MKII. There will be another epic class unit for forgotten that will be designed mainly on assault, but its too soon to reveal any details.
Also once again thank you very much for participating in moddb awards! Tiberium Essence managed to get into first 10! What a success! I did not expect that coming. Honestly that took me completely off guard.
I wanted cover this event sooner but some things I wish not to speak about prevent me to do so in time so at least now.
One note at the end. I must apologize for been not much responsive lately, I just can't scramble that much amount of free time, my real life issues keeps me that much busy and its not going to be better anytime soon. Hope you understand.
See you around ;)
Carnius