New Year, New Faces, and New... News!
It's the start of a new year and SHIFT is ready to meet it head on! We hope everyone had a relaxing, entertaining, and productive holiday break! We sure did! I want to congratulate all of the Source mods that topped the ranks this year in MOTY 2010. It was a great year for Source and Im happy to see the modding spirit is still alive and well.

Korge's Last News Post
First, I would like to let everyone know that SHIFT now has a full-time Public Relations and Community Manager. Now that I have taken on the role of 3D Modeler for SHIFT, as well as a job and school again, you will see less of me in the ModDB community (probably a good thing to some people :P ). I find myself far too busy attempting to handle managing the website and the ModDB and it has taken its toll on me. The up side is this means we have a new outlook on how we plan to update and keep the community engaged. We are hoping to go for more of an "open" development in 2011. We did this in 2009 and it worked very well so we hope it works in 2011. We are not exactly sure what we have in store for the community, but we are definitely open to suggestions! Which brings me to my next point.

A Quiet 2010?
In 2010, we hardly updated the ModDB or website at all. There were several reasons for this but the most prominent reason was a lack of single player content. From a realistic stand point, it may be because the folks on our team have a life outside of SHIFT, but I want to truly say it is because the code base was our primary focus. Since SHIFT was constantly pushing new boundaries, content was never grounded on a stable build of SHIFT.
For example; On one day the lap system would work fine and integration with a map may work, but then the next day a lap counter may be integrated and then would break old maps. Basically, any content that would have been made, ran the risk of having to be altered if it were broken because of a new feature or change.
Managing these hiccups during a rapid prototyping process is not fun so therefore, we focused on the code alone. I have been criticized for operating this way but I can only defend myself by saying that SHIFT is not a generic shooter modification where content can and sometimes is a simple swap. The vehicles in SHIFT have many specifically required bones, animations, textures, or model requirements that are outside of the usual Half-Life 2 vehicle. Even the slightest change or addition in code requires the content to be adjusted and recompiled which can be a pain if the game already has 20 + cars. This is why we are polishing the code and content on a small scale before advancing in content. I hope people can understand this point of view.

Old Media?
Several people have asked me why I deleted older media for SHIFT and this is my response for everyone: SHIFT has been on ModDB for over 4 years now and it was not until recently that the final code for SHIFT has been "locked" in and production for single player content has begun. Almost ALL of the previous content has not even found its home in the new SHIFT due to technical issues or design changes. However, we did keep all of our old alpha demonstration videos on our YouTube page for archive purposes. The only remaining image from 2010 is the one below. This map (created by Spas12) is the one defining piece of content for SHIFT in 2010. It was when we debuted the 240SX and it quite simply brings back good memories to us.

We hope to have a fresh start in 2011. This means more updates, better updates, faster updates, and more of everything; well not everything but a lot more all around.
Cinematic Conceptual Trailer (2011 Gameplay Trailer Coming Soon)
It has been one year since we released our very first alpha gameplay video and so much has changed (improved) since then. We hope to release our 3rd gameplay trailer very soon! We will keep you posted. In the meantime, enjoy this short cinematic teaser put together by the talented Thomas Frenkel! The goal was to create a trailer that represented the dark atmosphere of SHIFT's singleplayer story. While this video is merely for conceptual purposes, I think Thomas nailed the theme perfectly.
New ModDB Design and a Major Website to Soon Follow
In case you have not already noticed, we finally updated our profile page. While this is fine and dandy, our website is still in the works. The graphics are done and some of the gallery bits are complete, but we have big plans for the rest of the site; including... achievements and statistics integration with profiles.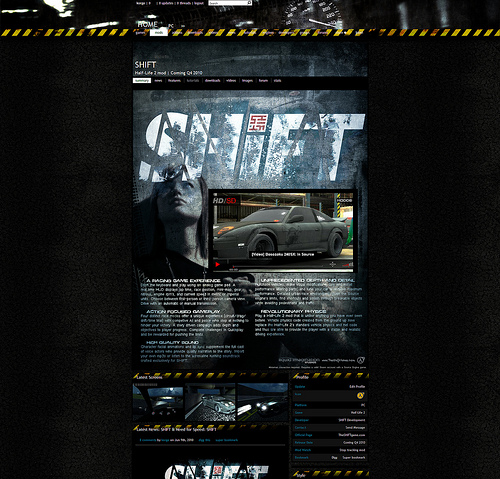 Sara Margo
Just to clear up once again: Several people have asked who the female in the poster is. About a year ago, we posted a similar concept piece with the same girl and said she was one of SHIFT's main characters. The girl in the poster is Bonnie, who is still a part of our cast. She plays the role of Sara Margo; a young female street racer who re-introduces you to Oceanview; the city you thought you remembered.
We have been getting a professional vocal studio ready to lay down some of SHIFT's voice over work. We hope to bring you a few of those samples in the months to come.

Welcome to Oceanview
To kick off the new year, we posted our very first screenshot from SHIFT. It is a simple screen capture of our classic 240SX being backlit by a gorgeous morning sunrise in Oceanview, California. (Downtown) Oceanview is the city in which the 7 chapter story of SHIFT takes place. The sky was created exclusively for SHIFT by MrChop who has also done skies for other modifications.

An Engine
Not too long ago, we posted an image of a work-in-progress high poly model of an engine; but not just any engine. The file was uploaded and titled "117 hp @ 13,000 rpm" and surprisingly, only a few caught on. Let's just say that with SHIFT, we like to push the limits and try things that have never been done before on the Source Engine. :)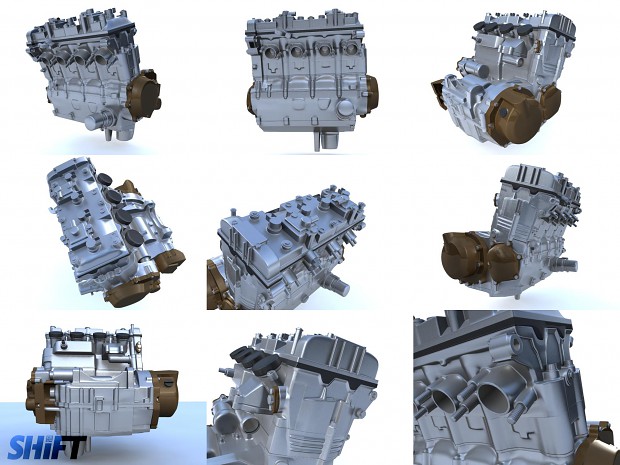 NOW HIRING!
We are currently looking for 1 or 2 extraordinarily talented 3D modelers who would like to work with a small dedicated team working on a unique modification. We are looking for environment and character artists in particular.
By being on the SHIFT team, your high quality work will be presented along side other talented artists and professionals who have contributed to SHIFT in the past (Robert Fletcher, Laurens Corijn, etc). Because we have such a high standard for our content, we hope having SHIFT on any portfolio will be a worthwhile investment for any serious artist looking to break into the industry.
Working with the SHIFT team will give you an opportunity to learn the Source engine art pipeline, work in a rush-free environment, and play test SHIFT with the rest of the development team. Flexibility and complete reference images and technical guidelines will be provided from the start.
Prior works are required to be considered and can be sent to my inbox personally.
---
This just about wraps up our very first news post for 2011. If you feel the need to talk to me personally, you can contact me through the Steam group and send me a message in the chat.
Best regards and a happy (productive) new year to all you modders,
korge