News:
Right, a new video is up and running.
Check it out!
It features all new units, sadly without the new models, as they're still being created. But all that are mentioned have complete, or almost complete coding, which allow you to see what our ideas of the Mod consist of.
This is just a mere touch of a tongue compared to the ginormous bite you're gonna clamp your jaws onto of the finishing mod. So, we hope you enjoyed it and don't be too off putted by Dan's cold! He rarely gets one...
Anyway, we needed to get a video up as soon as possible with the lack of Mod page views and support. So making one now, seemed like the right choice as mod views have sky rocketed since the video has been released.
Thankyou for all of your support.
Highlights: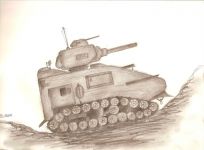 New Medium Tank Concept