Sorry for the hiatus, real life stuff took my time to work on this project. While I still don't have time to work on it as much as I want, I worked on it enough and I should release another version soon. Most stuff is related to fixing bugs and balancing what should be balanced, as the 0.2 version changed so much it needs a lot of time to get the balance right. After some feedback I got to change what was needed and it will be soon released.
The main new addition for the upcoming version is the reworking of the Dutch East Indies: in vanilla they start with way more than they historically had.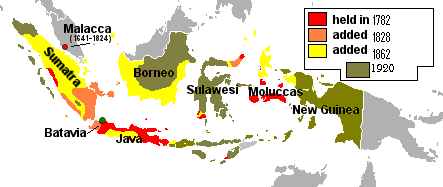 Map of the Dutch East Indies. They start with most of this annexed in Vanilla
Unfortunately, not everything can be 100% historically accurate. So you got the option to integrate (annex via decision) some monarchies that historically were part of the territories as vassals, and start as such. Along with it, there's a proper Anglo-Dutch coast treaty to remove the influence of the sphere owner of Aceh, giving the all clear for the dutch to start the Aceh War.
The treaty can end up with a few different paths: you can get other colonies (random colonies with sea access), you can give them for nothing or you can refuse the treaty completely. The dutch, of course, can also refuse the other country demands. But the conquest of the Aceh doesn't come without a price. The muslims can declare a Jihad against the non-muslim government, which will result in a lot of colonial revolts.
Other important changes are in the map: Aqaba, a province with access to the Red Sea, now REALLY has access to the Red Sea, so they are a coastal province now with a port.
Another important change comes two other provinces: Singapore and Eupen-Malmedy. Singapore is now an island and Eupen-Malmedy is now a thing. In the case of the later, pops have been rearranged and corrected. To keep the province numbers the same, and to avoid having two small provinces, Spa was integrated into Liege.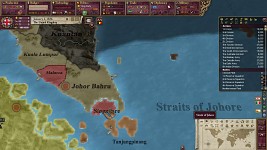 I know the port is turned to the wrong side and the name is not really good. It's fixed already
Belgium barely lost any pops, though it is does have one less province than Vanilla. In the future (and I hope that it will make it in this next release), I will make sure that if Germany gets dismantled in a Great War, Belgium gets that province.
Russia also got some love, and they start with a full set of historical generals. The problem of the Russians bleeding too much money that happens since vanilla is now more or less fixed, with a few ships traded by ports to avoid them losing colonial points.
Well, that's all for now. Full changelog will come once I upload the new version!