KarBOOM 0.2.4 has been released and, as usual, can be found at my website or KarBOOM's IndieDB Downloads page.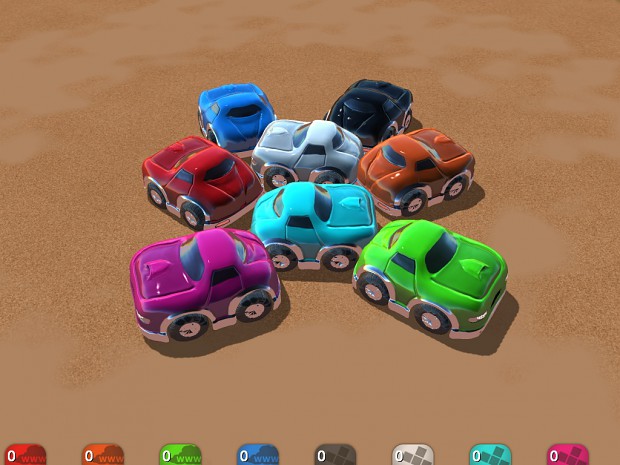 UPnP
KarBOOM 0.2.4 uses UPnP -- supported by most routers -- to automatically set up port forwarding on hosts. So if you go online and can't find a game that meets your tastes, just host your own!
For those of you whose routers don't support UPnP (and you'll be informed as such upon starting a game), please forward port 2300 to your computer to host a game of KarBOOM. You'll be informed if players are unable to connect.
Online rounds
Online games can now take advantage of all the game modes available to offline players. Time limit, score limit, and life limit are all available, as well as no limits if you just want to bash around or have a chat.
In formal game modes (that is, anything except "no limit") players that join mid-round will just be spectators until the round ends and cars can be added and removed. As such, if you're hoping for people to join your game and stick around, keep rounds relatively short with short time limits or easy-to-reach victory conditions.
Save your info
The "remember me" option takes the hassle out of logging in every time you start up KarBOOM to play online by saving your login information when you check the "remember me" check-box. Sound preferences, screen resolution, and anti-aliasing settings are also saved every time you close the options window.
Premium accounts
At time of writing, there are still plenty of free premium accounts available! Remember, the first 500 accounts created are automatically upgraded for free. You can see how many accounts have been created so far at the bottom of the KarBOOM forum or at the login page. Once these are used up, free accounts can be used at the forum, but it'll cost $5 (US) to upgrade to a premium account for online play, or more once the game is more developed and rich in features in the future. So get your upgraded account while it's free!
What else?
I'm Jibb Smart and I develop KarBOOM on my own using the A8 game engine. If you find any bugs or have any suggestions, please let me know at the KarBOOM forum. Forum accounts are free and, if you get in early enough, will be upgraded to a premium account to be used in KarBOOM automatically at no cost.
KarBOOM is a work in progress. The latest on its development progress can always be found at the KarBOOM forum. In the next version I plan to add more information about servers to the server list and more player information to online games.