One of the things we like the most about C&C 3: The Forgotten, one of our mod projects at C&C Labs, is that it tells a real story with real characters. We think the fans will be quite excited to fight some tremendous, against-all-odds battles in locales ranging from the Blue Zones of Europe to Tiberian Sun-esque environments of hellish Red Zones. Below, you can see seven screenshots from two of our missions, one from a European capital; the other from a crumbling area on the very outskirts of a Yellow Zone. The first mission was made by CaptNeo. Phe0n1x created the second.
Another neat thing we're showing off in this update is our new gameplay mechanic with Tiberium life forms. Often, we get asked if The Forgotten will be able to utilize them to their advantage; they will, but in a unique way. Since naturally not every Mutant has a rapport with Tiberium life, only specially trained individuals can command Tiberium life. Enter Beastmasters. Each is an older soldier who has spent years working with Tiberium Fiends--the Fiends will listen to no one else. Beastmasters will travel with their Fiends all over the battlefield, ordering the Fiends to strike the enemy with great power. But beware, if the Beastmaster of a Fiend sqaud is killed, the Fiends will no longer listen to anyone. That is quite a loss, because the power of Tiberium Fiends is very high, as you can see below.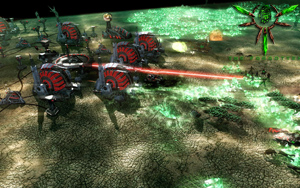 Special thanks to stygs and chronosheep for their assistance with the Tiberium Fiend art. You can view our complete art gallery on our media page, and learn more about our units on the Units page.