New Track Editor, Multiplayer, Monster Trucks, Rock Crawling, Winching and more!

D Series was originally fully released in 2015 and has been rebuilt from the ground up for 2017. Complete with a new Input Controller System, DX11 Graphics, Multiplayer and a easy to use In Game Track Editor. It's also now available in Mac and Linux versions too!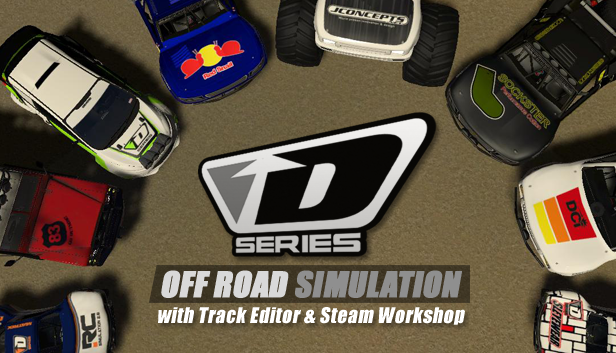 TRACK EDITOR and SHARING TO STEAM WORKSHOP:
With the new in game track editor, you can create anything you can imagine and then share your off road creations to the steam workshop with just one click. Build your local favorite race track or go crazy with a fantasy off road park.

There are over 200 different objects in the track editor to add to a track. Track Editor Guide has been made to help you get going quickly.

COMMUNITY TRACKS:
To get more tracks from the community, simply subscribe to them in the D Series Workshop and then next time you restart your game they will be in your Community Tracks menu. Its that easy. Remember to like and share your favorite tracks and you can even create a collection of tracks that you think others will enjoy.
Since the track editor is brand new, it is going to take a little time for new community tracks to show up in the Workshop. Some ideas of tracks and maps that you can create are.... Monster Truck Venues, Rubicons, Rally stages, Closed Loop Racing Tracks, Drag Strip, Hill-climbs.... Share or Vote on Workshop Creations with the community.
MULTIPLAYER:
This new 2017 version of D Series Off Road Driving Simulation also features a BETA 10 car Multiplayer. You can use any of the Default Tracks or even one of the community tracks from the Steam Workshop. If you do not have the correct or updated version of the track on your computer the game will warn you that there is a new version of that track and you can just restart your game and the track will update automatically. Please remember that the multiplayer is not fully finished and may change features at any time in the future.
WINCHING:
You can now use a winch in the Rock Crawling Vehicle. It will allow you to pass hills and obstacles you normally were unable to climb. The cable on it is about 150-160 feet long. (~47 Meters). You can only attach it to special winch spots and trees that the track designer has to include in the track editor. You can even click a "Winch Spots" button on the vehicles HUD and it will show the available winch spots with a bright blue glow.
FPV Explore Walking mode
You can exit and enter any vehicle in D Series. This will show you how to do that and what to do when you are out of a vehicle.
Washing Vehicles:
As you drive your vehicle it will acquire dirt, mud and debris. If you would like to wash it, you can get out of any vehicle by hitting the Enter/Exit Vehicle button (or the F7 Key on keyboard) and then hit the Interact button on your controller (the Right Stick Button or Return Key on Keyboard). You will then have a power washer in your hand :). When you have sprayed the vehicle clean enough it will turn off the power washer automatically.

You can also spray other things..... I will add more to this section when it is complete. ;)
Visit D Series Steam Store: Goo.gl
Like us on Facebook: Goo.gl
Homepage: Devotid.com
Twitter: Twitter.com
devotid website: Devotid.com
Indie DB: Goo.gl