On the surface, the new Amazons: Total War mod seems like an extension of the previous Amazons:Total War mod. But nothing can be further from the truth.
Whereas both mods used the assumption that 99.99% of ancient horses are only 12 hands high (120cm), this would accord women equestrians an unfair advantage as cavalry soldiers.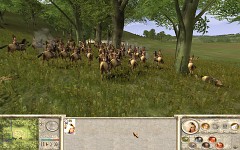 The latest 7.0 mod, called "Amazons:Total War - Recalesced" is an RTW/BI game based mod allowing the player to explore ancient battlefield using modern military concepts. Such as:

- Mobility and Stand-off Weapon capability using women cavalry.
- Area Denial "Minefield" using field engineering units.
- Long Range Mobile Artillery.
- Wagon Warfare to allow German Panzer like armor combat.
- Guerrilla Warfare, allowing agents to infiltrate into enemy territory to raise army behind enemy line.
- Linked Armor-Clad Cavalry which was the dominating cavalry formation in Eurasia for centuries.
Now shown first time ever on a video game.
- Terrifying Super-heating Incendiary Weapons known as the Thermite Munition.

Other Features

1. Extended campaign map, now including Eurasia and Northern India.
2. Quest based game playing. Player must fulfill faction specific mission to advance to higher level.
3. Breath taking scenery using custom RS II battlemap.
4. Balanced Unit Modeling (or. B.U.M.):Unit's recruitment infrastructure, cost, appearance, and capability must have direct relationship.
Here is a demo video of Amazons Total War