In this first dev diary we look at changing Civ2's terrain and cities to look like C&C as well as importing some cool new units for the Civilization 2 - Command & Conquer African Campaign Scenario!
While working with Metropolis on the Civilization 2 - Heroes of Might and Magic 2 Mod I started thinking about how cool it would be to play a dark and moody C&C style Civ2 scenario as I'm a huge Command & Conquer fan (so much that I run a retro C&C tribute website) and particularly love the dark and moody world of C&C2 Tiberian Sun. Both games use 2.5D isometric graphics that might allow for not too difficult graphic conversions too. So I started looking around to see if anyone had made any C&C scenarios for Civ2 and sure enough someone had! A CivFinactics user named Wonx2150 had created an old Command & Conquer scenario for Civ2 that contained some custom terrain and units. I was particularly impressed with his Africa map which recreates NODs Africa campaign in C&C1 but it also included some C&C2 sequel units making it a sort of hybrid scenario. Unfortunately the scenario was still very Civ2 looking and little bits of custom graphics here and there were nothing amazing so I decided to make a special remastered version (with Wonx2150's permission) of the scenario using as much imported authentic C&C2 and C&C1 graphics as I could! I've also been dreaming up a rather complicated and difficult Civilization 2 - Red Alert 2 Siege of New York scenario so I figured this project would be a good training exercise in preparation for the big one! It's 20 years too late but I'm doing it anyway haha!
Good old Command & Conquer 2 Tiberian Sun: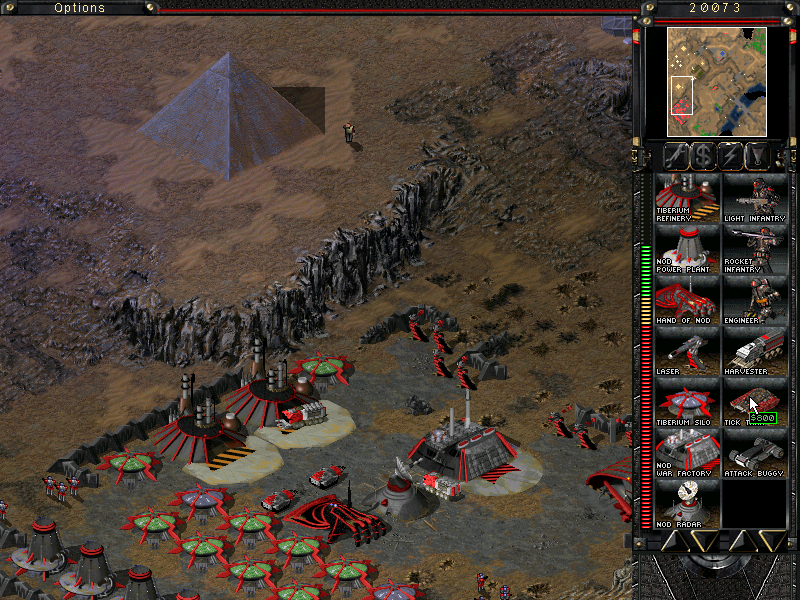 So to get things started here's some early comparison pics of Wonx2150's original graphics (mostly default Civ2 with a few changes here there including some rather funny looking tiberian lol) versus my new overhaul graphics either ripped out of C&C mix files or drawn by me.

Note: I had NOT touched any unit graphics yet at this stage Just done terrain & cities. Will probably change most special resource icons too.

Wonx's ORIGINAL Civ2 scenario graphics (click to expand):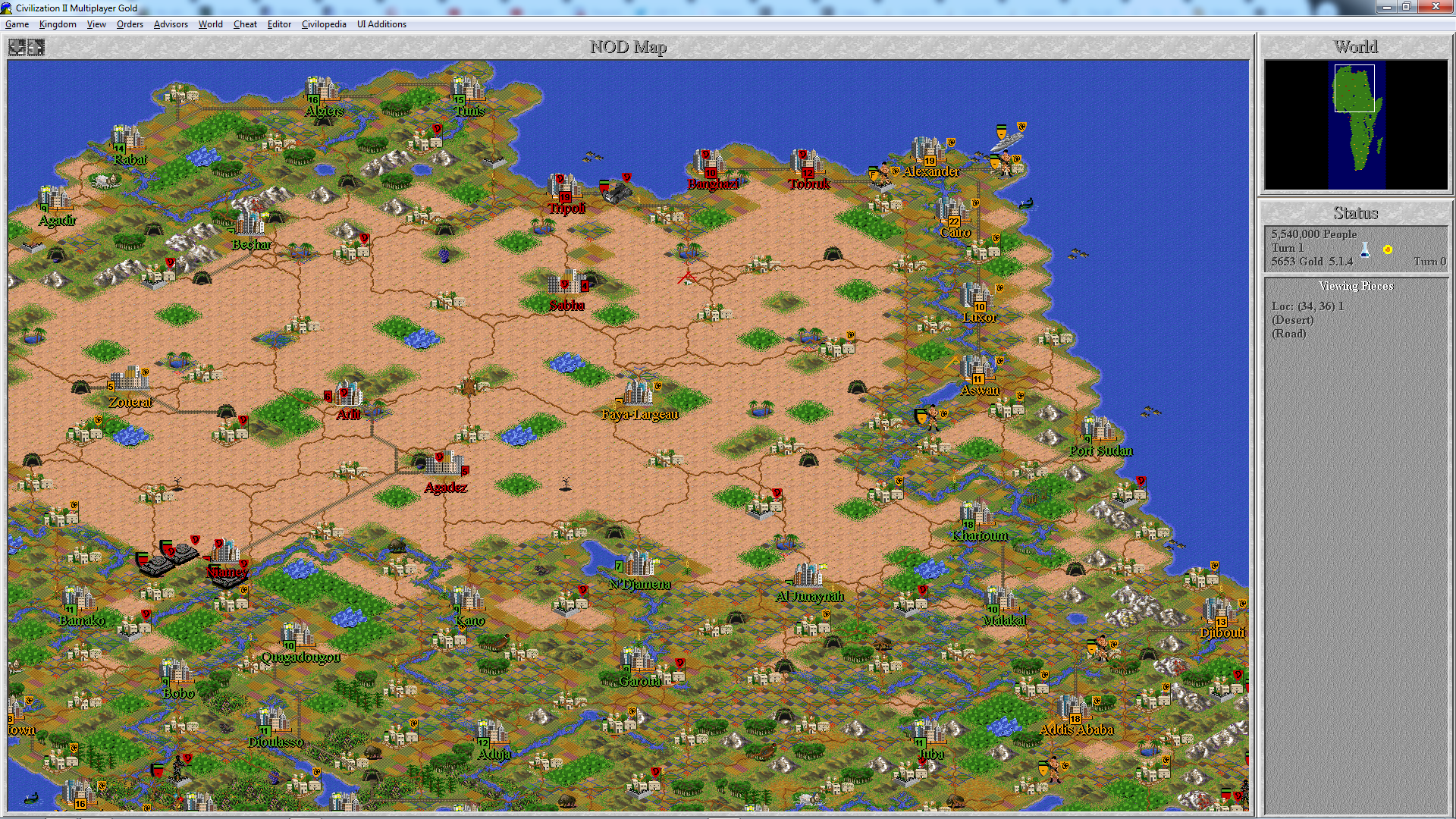 Blake's OVERHAUL Civ2 scenario graphics (click to expand):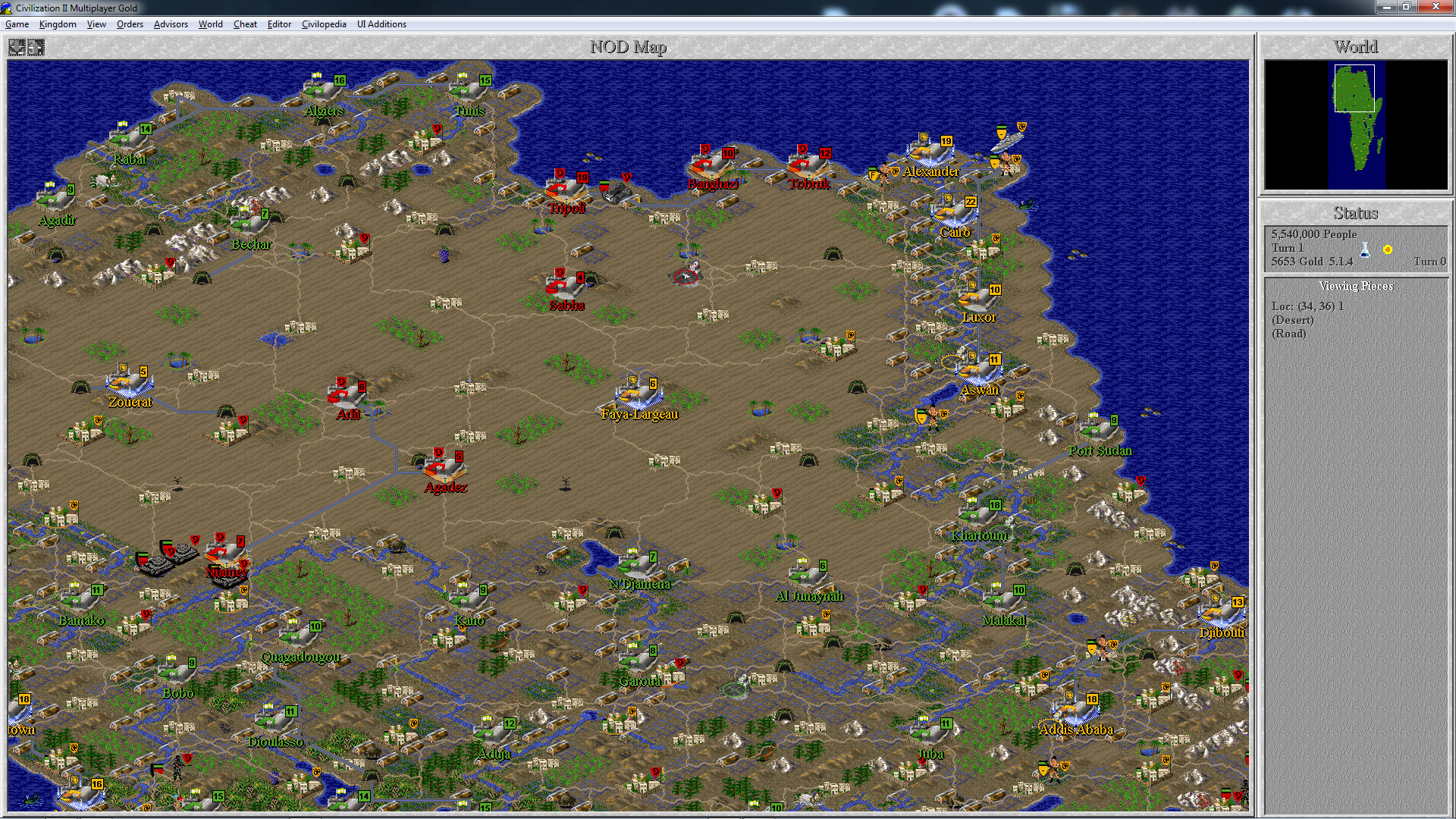 Keeping with the hybrid C&C1 & 2 theme I've used good old famous C&C1 command centers as they seem to go okay with 2.5D isometric C&C2 terrain (which is probably why sometimes saw ruins of them in C&C2 maps haha). Civ2 cells are smaller than even C&C1's buildings so some downsizing was required but they've come out okay. Each faction gets their own custom command center matching their faction colour and also custom C&C2 themed walls (eg NOD bases get their laser fence, GDI bases get their firestorm walls, and Neutral bases get GDI base walls with little turrets).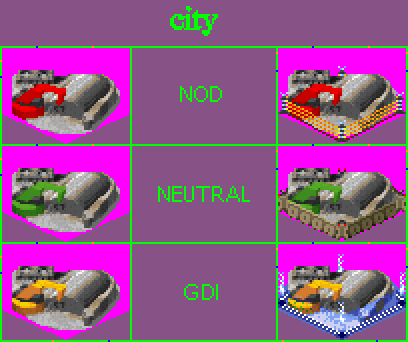 However I'm sure everyone is more interested in seeing how units convert! Original C&C1 units are too small and 2D top down looking to really work well in Civ2 (we've got those lovely remasters coming but they'd still be too 2D top down looking) however like the command center building most defense buildings should come across okay. But for other units I'm going to need 2.5D isometric versions and thankfully there's actually multiple really good sources for C&C1 style units within the 2.5D isometric C&C2 engine. C&C2 Twisted Insurrection and OpenRA C&C2 Crystallized Doom are both awesome projects that involve C&C1 styled units in the C&C2 engine so I contacted the authors and asked their permission to use some units and they were happy to help.
These custom fan made high resolution voxel models are even more detailed than Red Alert 2 models (a game that came years AFTER C&C2) which makes then awesome to look at but also difficult to downsize to a Civ2 unit cell. Voxel models are also better when they're moving and aren't so good for sharp details when sitting still lol!
Eg I have to get something like this: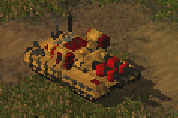 Into this little thing:

So naturally after this downsizing some re-painting of details is required. Civ2 MGE also has a very very limited colour palette so the models require a lot re-colouring too (yeah I know I probably should have converted Wonx2150's scenario to Civ2 Test of Time lol). Takes hours to get each unit done but I think the effort pays off as they don't look too bad haha! Here's a shot of my latest work which includes a whole bunch of imported units (click to expand):