Membraine Studios has replaced its teaser and tutorial videos two new ones that serve to demonstrate the great progress the team has made since Exodus Wars: Fractured Empire launched on Desura and IndieDB.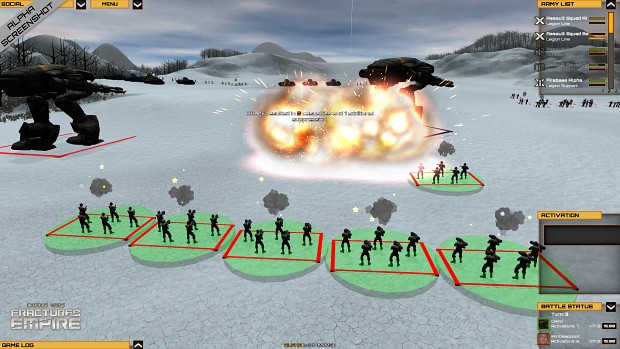 Fractured Empire puts gamers in control at a Brigade level, manoeuvring Infantry and Armoured companies, as well as massive super-vehicles, upon the futuristic battlefields of the Exodus Wars sci-fi universe. It tells the story of a brutal civil war fought between the Guild and the Royal Empire of Man.
For the Guild, the fight is to remain free and independent of the ruthless Imperial regime. For the Empire, it is to crush a dangerous rebellion that could well be the catalyst to its demise.
Features available in the current Alpha build
An engaging and fully realised sci-fi universe set in a period of interstellar civil war -- play your part in the Exodus Wars.
The Royal Empire of Man against the Guild Legions -- each faction has an extensive roster of units, from infantry and medium armour up to the Empire's Baron small behemoth and the Guild's Elektra and Enforcer heavy tanks, and with more units being added all the time.
Deep strategy via army building -- what you bring to the battle is every bit as important as the tactics you employ.
Manoeuvre warfare -- gameplay that rewards solid tactics.
Easy-to-learn, difficult to master -- the intuitive user interface enhances the game's depth and balance.
Interleaving activations-based play enables quick play -- give your formations orders and see these executed on the battlefield; no long waits like you find in typical "You Go, I Go" games.
Cover -- use cover to reduce your opponent's effectiveness.
Overwatch -- achieve superior positioning and control the battlefield.
First campaign scenario -- take command of a Guild strike force tasked with taking an enemy-held position.
Pitched-battle scenario -- a balanced skirmish-style map featuring multiple victory conditions each side seeks to achieve.
Single-player or challenge a friend -- hot-seat multiplayer today, online real-time and asynchronous multi-player in the near future.
High replayability -- given the large array of units and near-unlimited combinations possible via the Army Builder interface, not to mention the multiple tactical options available for inflicting your will upon your opponent, every battle offers new challenges and experiences.
Freedom comes at a cost
One of the game's designers Mark Sheppard said, "As a parallel for the American War of Independence, I think Exodus Wars tells a fantastic story. It's a sci-fi universe that gamers will immediately recognise and resonate with, given its inclusion of sci-fi staples like your Starship Troopers-esque space marines and your various alien races, but it's a far more grounded reality than most genre universes. There are alien races, sure, and there are powerful units on all sides, but there no god-like beings here -- the Exodus Wars universe is a story about men and women fighting and dying for what they believe in, fighting for their freedom. It's tragic and compelling stuff, and we can't wait to tell stories within this incredible universe."
Gamers may remember Fractured Empire from its Indiegogo crowd funding campaign back in June and July last year. During the Indiegogo campaign, prominent entertainment website Cinema Blend wrote "I love the look and art-design", while IndieGameMagazine wrote about "the extremely impressive sense of scale that Exodus Wars clearly champions, not to mention its marvellously hand-crafted art style".
The team has now embarked on a pre-order alphafunding campaign as a means of extending the game's funding and potentially even speeding up development if enough pre-orders are received.
Gamers can also play the Alpha in multi-player; currently hot-seat only, but with online and asynchronous multi-player support targeted for release in a near-future update.
During the Alphafunding campaign, gamers can support the team by pre-ordering on Desura for just US$9.99 -- more than 66% off the final release price of US$29.99. Pre-order customers also get to play the current Alpha build of Fractured Empire immediately and have the ability to contribute to the game's design via the developer's forums.