Hello 2142 Fans! I have released the all new, finished, Zombie Community Mod! This is 100% completed and ready to be played. I am also releasing the server files here shortly after the smooth release of the client. So first we are releasing the client, THEN the server files. Strange eh? I wanted to try something different. Screenshots are up so enjoy them! I have a dedicated server up so everybody can enjoy the mod!
Players will find the standard co-op bug still present that will cause the server to crash at random times. HOWEVER, most players can avoid this by simply creating/playing single player or lan games, but not as fun. The client download should be available here in a few days. Enjoy this new mod 2142 fans! As this is my going away present. I am laying down my walker and stepping out of the battlefield to create a new game for a special engine. Hopefully you guys will also enjoy this new game as well.
More screenshots can be found here:
Those screenshots also contain the in-game process screenshots of the mod over the last few weeks. Most players will enjoy the new flame thrower, which is more realistic than it's predecessor. This flamethrower has dynamic fire and smoke, unlike the previous versions where it was simply just a static fire model. What does this mean? It means that the fire and smoke go in the direction of the wind.
Global wind has been added to many maps. Global wind is a new feature that I've added to 2142 that mainly only applies to grenades and other slow moving, light projectiles. The wind will catch the projectile and make it soar through the air if you throw it straight up. Kind of cool to watch, but annoying if that grenade hits a fellow teammate.
Here was an attempt at a laser sight/red flash light for the sniper. It never made it into the mod because it lagged too badly and didn't project on half the materials. Shame as it would have been enjoyable to use.
This is a meteor WMD (Weapon of Mass Destruction) that was in the previous builds. The code is still present if any server admin wants to unlock it and assign it to a weapon. I since removed it from regular game play because I felt that one WMD was enough (the Ballistic Missile System). However, if any admin wants to unlock it, simply change the projectile of a weapon of your choosing to AAGuided_Missile , where the meteor is stored.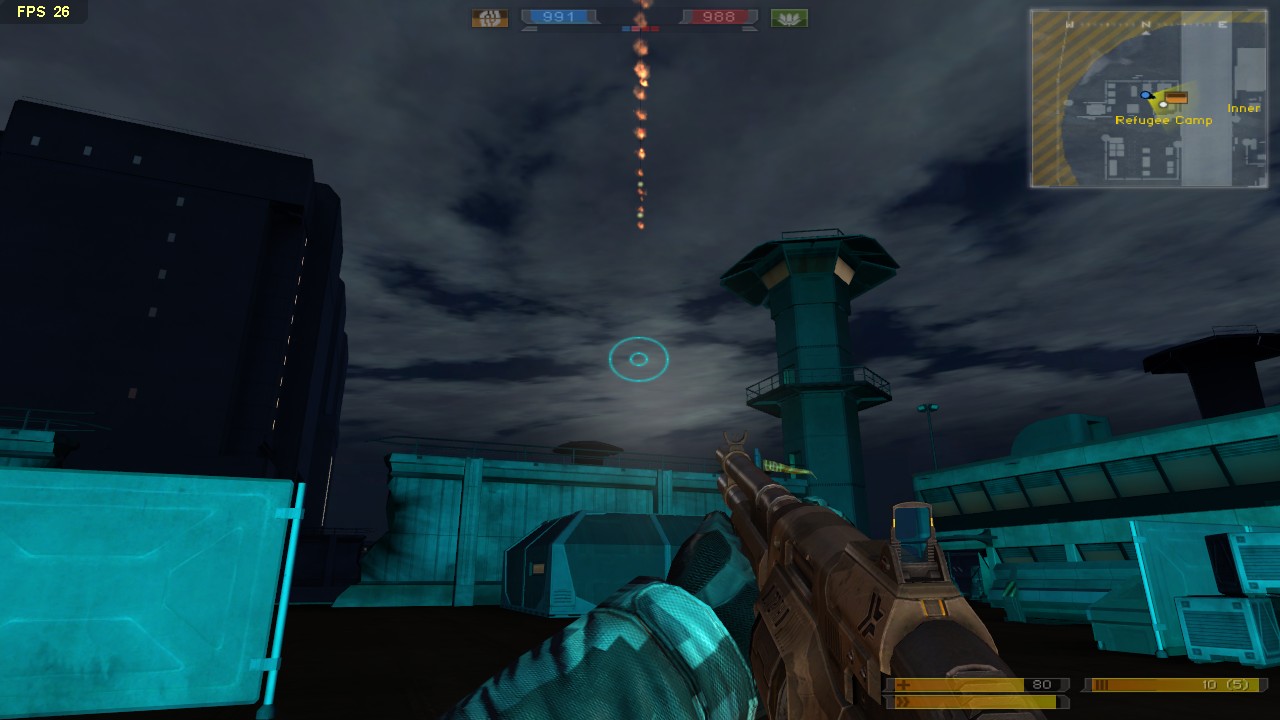 For more information on the mod, please read the readme provided with the mod. Oh, and one last thing, in the readme, please ignore the section where it was MD5 files. I since decided to remove those as they kept causing mismatches. So all MD5 files have already been removed and are not present. If any admin wants them to be added, please create the MD5 files, send me the new (verified and checked) MD5 files, and I will redistribute those files for clients. Until then...
I am out!
A-Train