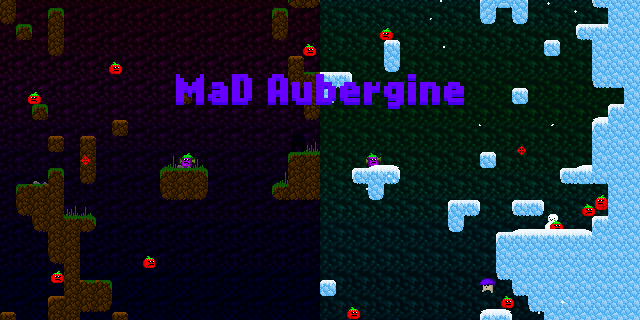 NEW RELEASE OF MADAUBERGINE!
Yes guys, a new version of the game is out:
- we have changed most of the tileset we used before, making them cooler and that fit better the game's style.
- we have fixed some little bugs.
- we have improved STADIUM's level generation by making it more efficient, fast and less buggy.
this procedure also put randomly some decoration elements around the map, just to make it richer of details
SUBMIT YOUR MAPS!
Another thing we are proud to announce is that now YOU can submit your custom map to us!!
Building a custom map is really simple:
1)get a pixel editing program like GIMP, PyxelEdit or even paint.
2)create a new image big as you want (remember that each pixel corresponds to a tile!)
3)paint it! black pixels are solid tiles, other colors are non colliding tiles like decorations or air.
4)Submit!
there are actually two ways to send us your map:
-send it with an email to grey.hck@hotmail.it
-make a tweet containing the hashtag #MadAubergine and the url of the image or an attachment
here's a sample (it's really tiny):

SUPPORT US!
if you want to support our work you are free to make a donation with the appropriate button you can find in our site, click on the ads displayed in our website or just tell your friends about this game!
thanks for your attention :D
Grey