A new CrowGuard Alpha is now available for download!
So there would be alot more in this if i had not had so little time to work on the mod, sadly education has got in the way once more :D , but there is still alot of new stuff in this version! Actors, Dropships and Weapons/tools

The Heavy Trooper


a new skin, armour is no longer one big white panel!
Now he also has more efficient armour that will take more bullets before he dies,
the glitchy bullet penetration on this has been fixed allowing me to make the helmet smaller to avoid stupid bloated head look
A heavy trooper with two modifications, he has a pretty red helmet design and is a designated leader,
now play like a man with You Vs The World, no longer any need for a base with this trooper!
(unless you want one ofcourse)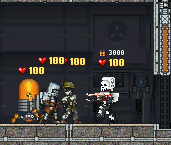 originally a pussy gold digger.
Soon realised Crowguard don't need no money, just violence!
so i bring to you the Laser Saw, the Crowguard's answer to close combat
and tunneling, with a moderately wide spread of dangerous LasPulse emissions
this baby can tunnel through anything,
Dirt, metal and armoured flesh!
The CrowGuard DropShip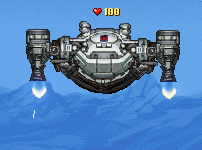 as you can see this is a reskin of one of the base dropships
i did make my own dropship, it sucked and got lost with the 1.0 version anyway
so here it is, cheaper than the Base dropship due to CrowGuard Funding
All This new Content!! Aswell as various weapon fixes this new version is more tasty than ever!
next version will be Beta

As always im happy to hear any comments or changes you would like me to make.
Have Fun!