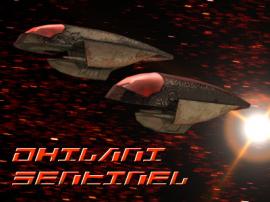 This little space critter is now available for Download!
The inofficial successor of the Dhilani Nemesis is a slim and fragile looking craft. However its enormous speed and agility along with its small shape make it a very advanced space superiority fighter.
This model for X-Wing Alliance comes in three different variations, so you can choose whatever you favor! Click the picture to go to the Download Page or check HERE for more info and screenshots!
Those not sure how to install the Sentinel, check the included Readme for instructions!
and now go and have fun! :)