Greetings!

We are very happy to announce that we have unlocked a new portion of the game with about

30 hours of gameplay. Now the game is playable up to 80% of the full content. Everything but the Titans chapter is now playable. The two chapters, "The Divine Artifacts" and "The Impious Princes" can be completed now.
---
New Regions to explore: Rasmura, Devonia, Vilak & Varas Talak

---
New High Level skills for Mages and Clerics
Originally we estimated that players would finish the game with a 40-45 level party, so because of that there are no new skills beyond level 40. But we know that some players are collecting until the last experience point they can, so some heroic parties can reach new epics levels of 50-55 or even more. To reward those awesome players, we have created some new high level skills for levels 45 and 50 that will make you feel as if you were a Demigod.
Most people never will see those skills, but they are there. Surely people that plays the Hard-Core mode will find these skills helpful. And we will implement more new skills for the rest of the classes.

And..
Special Discount in Humble Bundle Store !!
We have just released Lords of Xulima in Humble Bundle Store where 10% of the sales go to charity. To celebrate that, we have set a special 20% discount until next Monday. You can buy your Steam key there or buy as a gift to give it your friends. It is going to be the cheapest edition of Lords of Xulima as the final price will be higher when it is officially launched.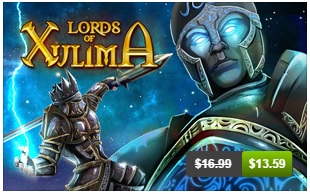 In the next big update scheduled for next week or the beginning of the following, we will unlock the rest of the game except for the very end.
See you soon!
---