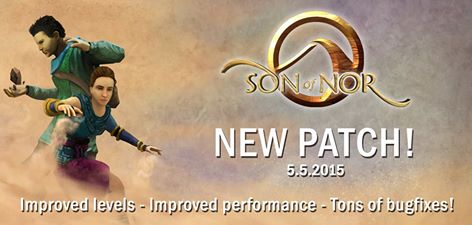 Hello everyone!
We have released a new patch today 05.05.2015! Expect tons of improvements like: Improved performance and framerate, Improved initial levels, more polishing, tons of bug fixes, improved balancing like reduced fall damage and much more!
Here's part of the changelog for version version 1.0.78:10044:
- drastically reduced fall damage due to player feedback
- completely overworked tutorial according to player feedback
- creatures now die sooner when burried in sand
- fixed bug with fire pillars pushing you into the sky
- added tearaway sounds to the dry tree branches
- fixed fog plane issue at the beginning of the wind temple
- certain eggs are no longer enhanceable
- improved cutscenes in the edge
- overworked level 2 goals
- fixed a bug where the AI debugger sometimes caused log flooding, resulting in low FPS
- Fixed controller support for the dialogues.
- fixed lagging intro movie
- fixed performance issue in TheEdge
- char creation is now opened right away when there are no player-profiles
- Updated the Oculus SDK to the newest version and updated the implementation.
- fixed wrong titles in spell book
- fixed wrong default page opening up in spell book
- changelog does not appear anymore on each new version, but you can still open it up by clicking on the button
- Ranged and Melee scouts cannot attack anymore while they are not grounded.
- Fixed certain mold piles in the fire temple not being smashable.
- Fixed some molds disappearing too late after being smashed.
- In the final cutscene, the player does not fall through the floor anymore.
- creatures cannot be picked up anymore when burried
- when holding an object that cannot be enhanced, a spell will be cast instead
- eyetracking will now not only favor physical objects, but magic sources too
- fixed small bug with shooting in mass TK and using EPOC
- in level 01 improved player guidance when going to canyon
- Video clips can now also be paused and/or skipped with the controller.
- added new intro and outro movies
- added german audio-clip to intro
- Intro audio language now follows the setting from the main menu
- added outro
- tutorial hint in lvl00 on creature is now shown above creature
- scroll hint in wind temple on orb is shown above orb now
- Fixed timing issues with the boss death effect in Level_02b
- Fixed timing issue with the death boss effect in Level_03-1
- Fixed timing issues with boss death effect in Level_05c
- added additional hints to the closed radir door in taro (how to find the key)
- improved deadly effect for no-gravity fields in taro
- added new quest-goal to taro (for finding the key to the door)
- made font darker on gravestones in taro
- no more invisible scarab packs!
- havoc sphere is not enhanceable anymore
- added shadow casting lights to crystals in temples for maximum quality settings
- Achievements are now shown with a steam overlay notification as soon as they are unlocked.
- Controller menu now starts by default at the keyboard and mouse tab.
- Enemies can now spot the player in the dark for a very short time after they are attacked.
- Fixed missing collision at the exit door of the second Yant'shaza level.
- Regrowing crystals should not get stuck anymore when torn away.
- overworked fire-temple door puzzle to have better player-feedback
- blocking hot molds slightly repositioned so you can see the door they block
- moved spell variation in lvl1-1 to be visible
- made big boulder of "heavy lifting" slower to move (so it feels heavier!)
- added additional light source to obelisk puzzle in wind-temple
- added scroll hint to first power-orb in wind-temple
- fixed way too strong camera shake for rising mirror puzzle platform
- fixed bug with tele-cutout shader having a huge checker pattern
- lasers in crushing windtemple can now destroy the guards
- improved player guidance in scarab cave after wind-temple
- added hint to destroyable rock after wind-temple
- Players don't get all powers anymore when entering the Proving Grounds
- made first jump in cinder valley easier
- added hint to first barricade in cinder valley
- Ingame cutscenes can now be skipped by pressing space or return (after a small delay).
- added fence to lvl01 after going to the canyon
- rotating lasers in fire temple are now synced
- Made multiplayer rotation sync of sliding rings in wind temple smoother.
- Lava now also reacts on wind combination spells.
- Fixed a bug where the game got locked up in the saving screen when a level was finished during a cutscene.
AND MUCH MORE!
- Read More on the changelog.txt in the root folder of the game -