Since the first post-apo game (which would be, I guess, Wasteland from '88) we were fed with a vision of world inhabited by mutants, which were the ultimate evil. History in each and every title was circling around how devastated was surface of our former green planet.
But have you ever stopped and wonder, how tough was life inside a Vault?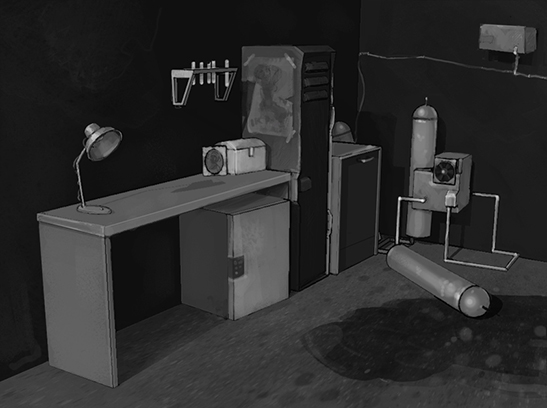 Chain Reaction: Escape is most probably first post-apocalyptic adventure game; one without any combat at all - besides main characters' struggle to stay sane. After spending many hours on almost every post-apo title ever released, and watching many hours of such movies, some ideas were bugging me, forcing me to write. And that's when I actually started to build Chain Reaction's world.
And after weeks of designing history, it came to me, that surface is not the worst place to live in a post-apocalyptic world. Sure, it is rough. Most propably it would be freezing, inhabited by unknown to mankind monsters and generally unforgiving. It would be hard to inhabit it once again. Why then mankind would want to do it anyways? As we all know, we're capable of growing used to almost every environment, right?
I've finished Metro 2033 book by D. Ghlukovsky for a third time lately. Image of men, struggling for survival in a tight space, living like an underground vermin has shocked me. Not fully alive - solely existing. That's why I think the worst part of apocalypse would be forcing a human being to live underground, in closed space, with hermetic society.
Think about it - for two hundred years you have only so much genes to spread in a general pool. How long will it take, since the incest will begin to spread? And with it advancing degeneration of human kind. Frightening thought, isn't it? And there are so many more potential threats of living in a closed society!
Chain Reaction: Escapes will get you through the moral degradation of human being; you will play role of a Jack "Psycho" - mentally unstable inhabitant of Vault 13 (Hi there, Brian Fargo ;]), who is cast out to the surface to find a new place to live. But he won't enjoy his 'freedom' for too long - after hour or two of crazy ride through snow, he's caught in a blizzard and forced to find shelter in another, empty vault nearby, that traps him in.
He has only 20 hours of life ahead of him, if he won't jumpstart the generator and open the vault door. And during this time, he will learn a lot about himself, about degeneration of human spirit and history of former inhabitants of this new Vault.
Will you dare to take this adventure with him?