Hello everyone!
It's been a while, but I finally have another update to share! It's quite a big and exciting one, so let's dive right in, shall we?
New Logo
Let's start at the top, with a new logo for Magnet Man Adventures!
I kept it simple and clean, as that's how the game is supposed to be as well. Red and green are of course the colors of Magnet Man, and the arrows are inspired by the way magnetic fields are visualized.
---
Graphical Improvements
I've polished and even overhauled some of the graphics since the last demo version. The biggest changes can be found in Air Zone and Water Zone: The tilesets for both zones have been almost completely reworked to add more texture, details and variety to the environments. Additionally, Water Zone got a new background, replacing the rather drab brick wall you can see in the old screenshots. You can check out the changes in the screenshots below.
New Enemies
Now that the main physics are more or less final, I've started adding some more enemies to the game. This time around I'd like to introduce you to these two nice fellas:
The spring enemy can be found throughout the game and does basically what you'd expect it to do: It constantly bounces up and down. You can jump onto its head if you time it right, or just run under it if you don't feel like fighting. Or, since it's magnetically charged, you could nudge it towards a pit with your magnet powers...or maybe even under a set of spikes, if you're feeling really devious.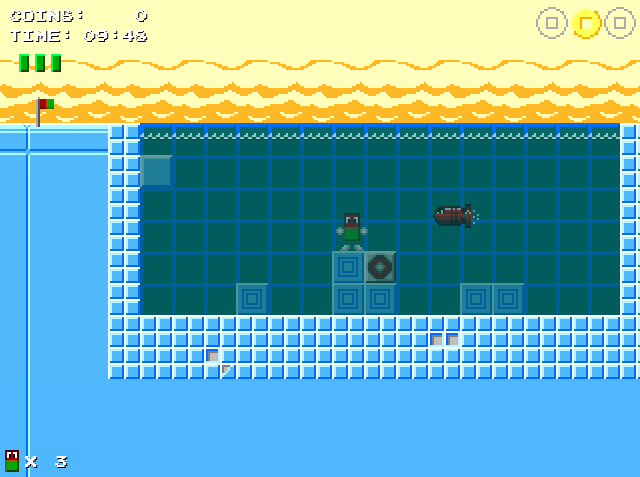 The torpedo enemy is only encountered in the pools of Water Zone. Get too close and it'll start chasing you! Use your magnetic fields to keep it away from you and lure it into a wall to get rid of it. Sounds simple enough, but remember that your movement is slower than usual while underwater.
---
Progress
Alright, time for a general progress report. A big chunk of the last few months has been spent on processing feedback and fixing bugs that people reported. A bigger chunk however was spent on stages. How big a chunk you ask? Well, I'm happy to announce that all the stages have been mapped out on paper and that half of them are already implemented in the game! That's right, both Air Zone and Ice Zone are complete. Since I have some other stuff to implement (especially when it comes to menus and cutscenes) I wouldn't say that the game is half done, but I'm pretty close.
---
What now?
I will implement all acts for Water Zone and Factory Zone; once those are done, I can finally make a proper trailer for the game. Also, I intend to create one or two short introductory videos before that, just so you can see the game in action; I'm not sure when I'll get to those, but I will let you know.
And that about wraps up this update. As always, make sure to follow me on Twitter (@ohsat_games) where I regularly post updates about the progress of the game.