As some of you have noticed, I've been getting quite excited about our new lighting system...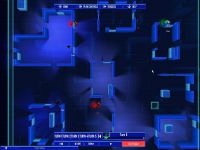 This blur effect makes everything look a LOT better - I think the lighting is almost done now. We'll try to make sure we get the maximum out of this - we'll hopefully be using coloured lighting as well as trying a few different effects.
Ian (lead coder / designer) has been working very hard on contract work recently, but also threw together this little Novint Falcon physics prototype to give himself a bit of a break - here he is demonstrating that...
Hmm, he's currently having an argument on IRC about how useful the Falcon is for precision 3D work...I'm staying well out of that one.
Thanks for your feedback on the backgrounds recently - I'm hoping to get some more concept art through which I'll share with you. Having people comment on here is brilliant - it's like having extra members of the team to give feedback! Given that there are only three people in the office here, it's a big help. The Plastic Horse of Christmas sends its hearty thanks: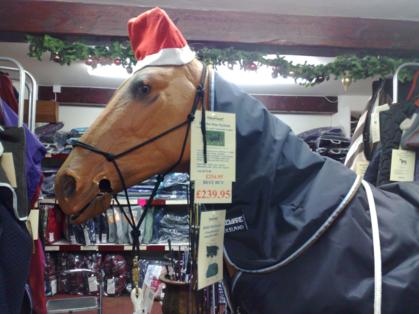 I just finished up my Gamasutra article, so I'll let you know when they decide to publish that.
Music Update
Really looking forward to getting some more music done to show you guys. I just purchased Native Instruments Absynth 5. I can't recommend this enough if you are doing soundtrack work.
A while back, I used to use FX Teleport to help me get over the appallingly slow processors of both my music PC's. I'm considering getting a second music PC soon and installing that, but I don't want to have to deal with the massive pain of copy protection (I own almost every East/West sample library, and those things are REALLY irritating to move between computers, let alone use on two simultaneously, causing you to have to PAY MONEY for an additional license).
If you'd like to hear a track I've done recently that wasn't for Frozen Synapse, head over to Beatport and pick up my remix of Miika Kuisma's One Step Behind the Mankind (I'm Nervous Testpilot by the way) - this has been getting plays from quite a few DJ's around the world and is proving pretty popular.
Hopefully I will get some more dedicated soundtrack time soon - I'm hoping that this will be a breakthrough bit of work for me and will lead on to other opportunites to take the audio side of our company forwards. We've released products for musicians (like DMS Dimension VST, which I'm actually using on the Synapse soundtrack) before, but I haven't yet worked as a musician on a 3rd-party product. Need to get my showreel together!
Talk to us!
You may have noticed the chat button at the top of the site...here it is, in case you hadn't noticed it:



If you click that, you'll go straight into our IRC chatroom (irc.maxgaming.net #mode7games) in your browser and you can say hi! I'm on there (nervous_testpilot) quite a lot, also Ian (Omroth) is around more than me. Alex Hayes (Malakian) is a long-time friend of Mode 7 and will definitely talk to you as well, if he's on! Please come and ask us anything you like.
I'll be back soon with some ideas about how you can help us to get more people involved in the Frozen Synapse community.

(Please track our updates! We try to make each one as amusing and informative as possible. Remember, don't click this button if you are already tracking - it will make you stop tracking! This is the opposite of what we want!)


(If you join our mailing list, we will use it only to send you important Frozen Synapse and Mode 7 Games updates. These will be very infrequent and guaranteed to be interesting! We will never, ever give or sell your precious juicy email to any naughty people - promise.)