There is one of the new levels on a picture. We are not sure if we will use this one, but I had like an hour of fun with it.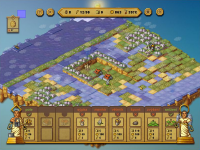 What is going on there? From right there is coming great wave which is hold by
natural dam. Not forever. There are two streams on the hills next to the
cities. You can´t build new cities, which means, you have to survive in the
lowlands. You have to collect treasures all over the map and you have to earn
nine hundred gold.
There are several ways to finish this level. I chose the "hardcore one",
which means I have built a giant dam around my cities. It was pretty hard
because at this place the land was flat.
Hope you enjoy new screenshot.
And one more thing: we have prepared nearly all translations. Next screenshot will
be in English!