Did a lot of work on environments lately. Don't have many new screen shots and I would like to rig existing levels with my new models before I take new screen shots. Video recording is on hold as we have that capability broken currently. Hopefully game engineer will fix it soon. Meanwhile take a look at this pretty battle scene. You can see huge rock formation showing it's side in the top left corner. Also the plants are new to the game.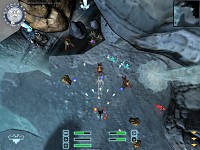 Aside from being busy with models, I have been busy with setting up our funding page.
We need your help, good citizens. Help us fund Steel Storm game. You can either visit our website to pledge any amount or follow this link that will get you to the funding page directly.