Greetings fellow Command & Conquer fans, I present the arrival of the latest version of the New Horizons mod for Red Alert 2: Yuri's Revenge, that being Version 11B-2. That extra '-2' being very important; perhaps more so that any of you may ever understand or appreciate in terms of effort, testing, and debugging I put into it. Version 11 was a Huge release (supplemented as Version 11A, and consecutively 11B), so I do recommend reading the article on it, and even previous ones should you be interested.
AI Recalibration & Overhaul
Sometimes when I make enough changes to my mod's working build, and realise there's enough to justify a new release, it's surprisingly easy to forget all the changes I've made. As such, I don't always quite know how to start to write about them! I can start by saying that this version began somewhat by accident; one day I was randomly reviewing my AI control file, when I realised it had actually been partially corrupted (*panic mode On*)! Interestingly, the AI were still mostly functioning, even with a partially crippled AI file, which is a testament to how expanded/varied I had made the AI control file. So I set about sorting out the partially corrupted AI file, and from there I decided to greatly expand it Even More. This helps incorporate more of the newer items I've added, as well as expanding on possibilities the original AI never had, such as teaching the AI to try seize many neutral-controlled buildings, including faction-specific buildings, such as factories. After this, I took the liberty of changing further relevant AI factors in the main control file of the game, so now they are overall better in terms of able to actively counterattack, gather/regroup, and stealthily infiltrate, as well as being capable of higher levels of aggression. The past randomised issue of 'stunted' AI growth in skirmish games has been greatly reduced also.
I can't exactly take screenshots on-demand to demonstrate this, however you should notice by playing!
Expanded Maps!
Those of you familiar with the New Horizons mod will be aware that I've included a variety of open-sourced maps, as well as official map-pack expansions. Some of these maps are either untested, or only work under specific conditions (and can therefore be unstable). I decided to do a little hunting for some decent additional maps, and go further; I've even given them some proper tests. Some of these new maps are fresh open-sourced, some with minor or even heavy alterations, all of which have been given a special mention in the Randomly Compiled Credits folder. I have also included a nice map I made from scratch; an 8-player map called 'Frozen Conflict'. I made Frozen conflict as I felt there was a lack of large arctic-themed maps with decent urbanised areas, and as such, this map has a town in the centre, complete with a nice variety of mod-specific items (namely the parked vehicular obstacles that have featured prominently in the 3rd new campaign mission based on Kaliningrad, of which I made a skirmish map version!). The players start generally in the 4 corners of the map, never too far from 2 abandoned military bases, and 2 mining camps (which will be a primary source of resources on this map).
Here is a render of the Frozen Conflict map I made, using CnC Renderer (and recently tweaking the compatibility of it's setup to work a little better when rendering maps used in New Horizons, but bear in mind is compressed due to ModDB Only Allowing 4MB pictures!!);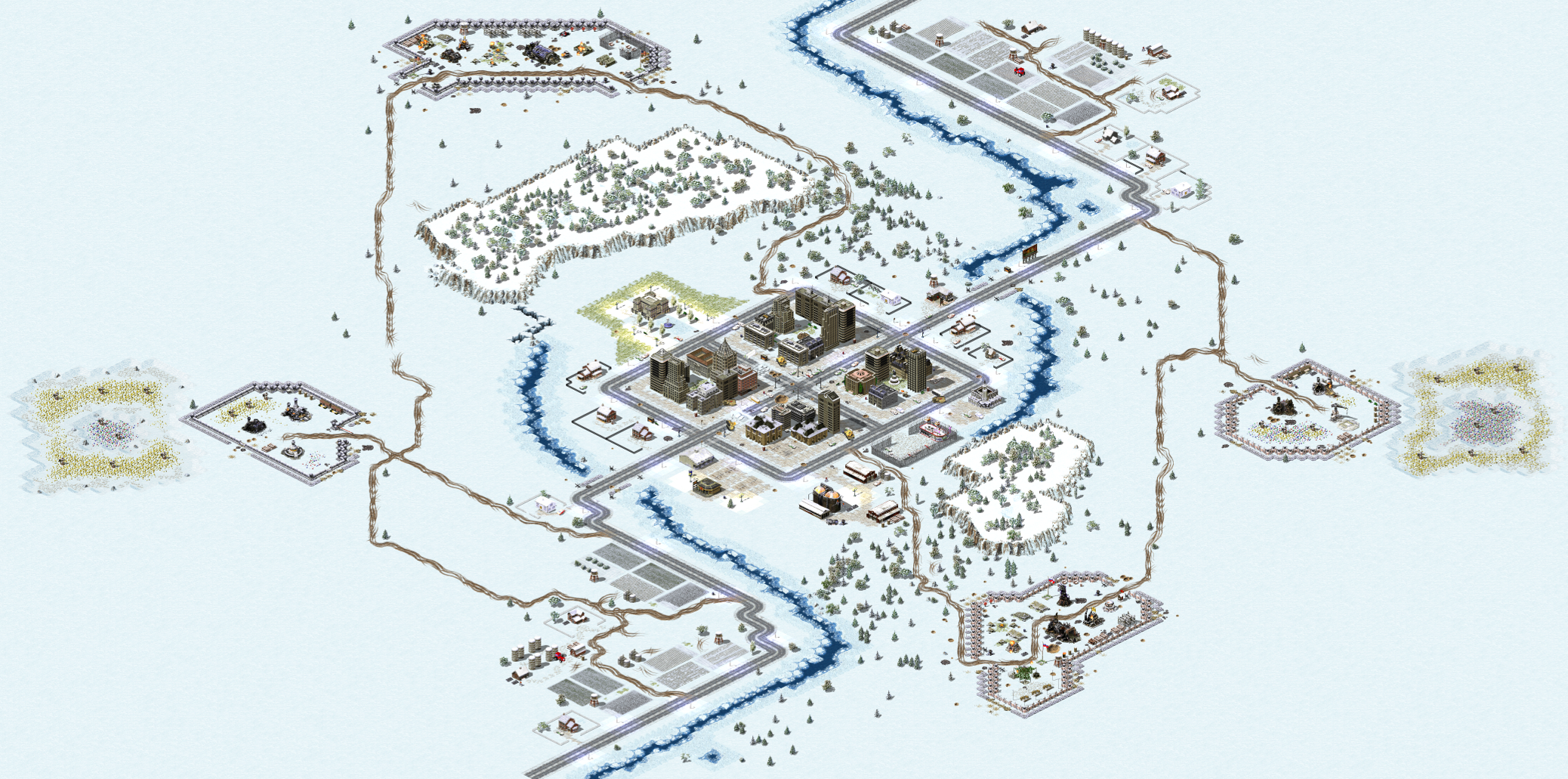 As you can see, plenty of opportunities availablefor varied gameplay, as well as ample base construction room on all four corners.
Here are some screenshots from one game on the map 'Dark Knight' which I modified:
A Chinese ally repelling an attack (glowing unit just literally got promoted the moment I took the screenshot, after shooting down an enemy plane off-screen);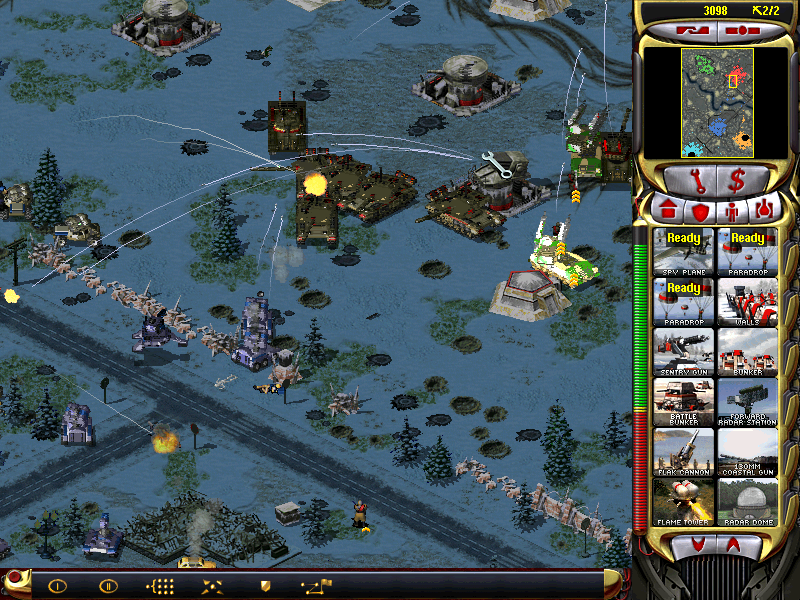 I hastily took this screenshot of my base-under-construction, in between it getting attacked. Tor-M2U's working overtime to shoot down bombers just beforehand (one pictured, near T-14 Armata);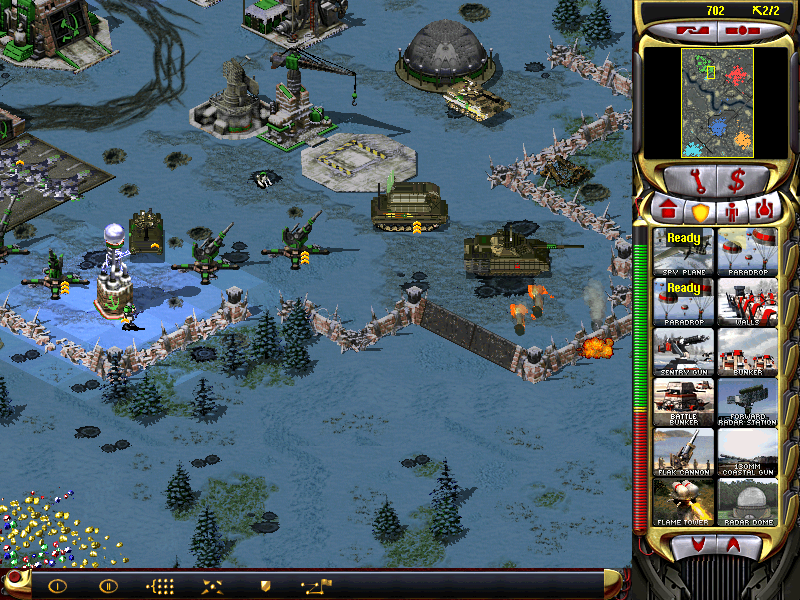 Checking what an enemy team is up to;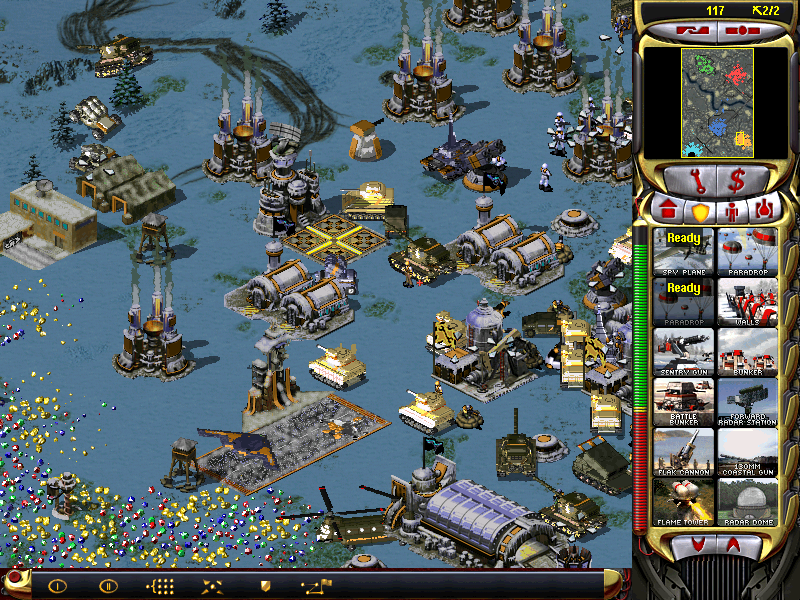 Caught an enemy team sneakily moving a bunch of infantry & vehicles;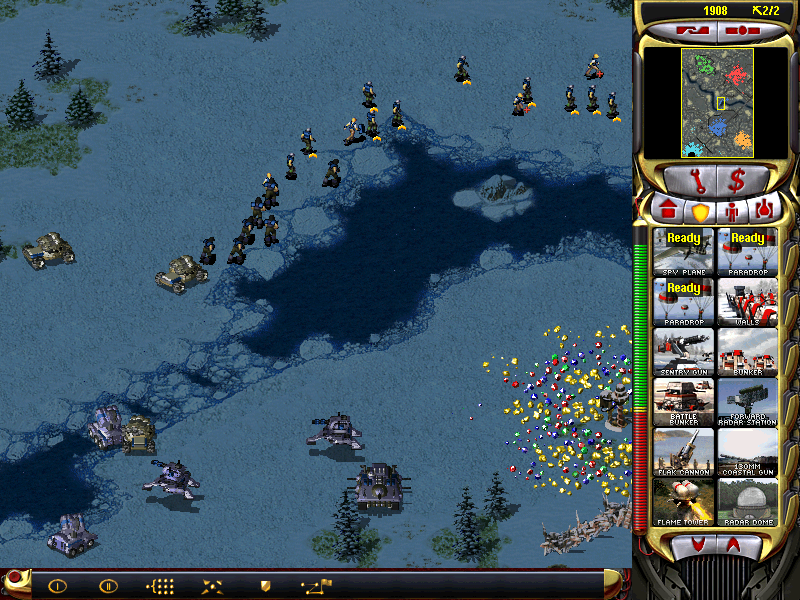 Fixed Annoying Vehicle Repair Issue
Recently I added hard-kill Active Protection Systems to the T-14, T-15, and the T-90M vehicles. These were set up to deplete fully to stop certain large-caliber weapons, however under certain circumstances medium caliber weapons, or partial hits from high caliber weapons would only partially deplete the APS, and the APS would not replenish, which would cause the following annoying issue; any repair vehicle on patrol in the same area, would stop and forever attempt to 'fix' the vehicle, despite it not requiring repairs. This issue has been fixed, as the APS will now replenish at the same rate as compared to when a full activation occurred.
Miscellaneous:
And of course last but not least, the mysterious Miscellaneous changes; a big shout out to the light debugging, and neatening of code/files..
I sincerely hope you enjoy all the new and improved AI, as well as all the new additions from previous versions, and have fun!
Command & Conquer Westwood Fans
Red Alert 2 YR: New Horizons
C&C: Yuri's Revenge
C&C: Red Alert 2