Party Animals is now on Kickstarter! You can find the project here: Kickstarter.com
It is also on Greenlight here: Steamcommunity.com
Any support you can give is greatly appreciated, even if it is only sharing it with your friends or network.
Now, on to the updates!
I finally got the animations for the characters in, and with the finishing of the Points Race mode (now called Ticket Chase), I have a new ending scene that I am also using for the minigames. I still wasn't pleased with the second iteration of how the minigames end, so now the characters appear on a stage. The stage is shown below: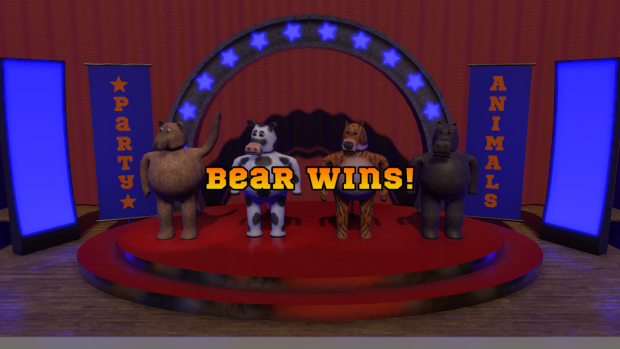 The final winner of the Ticket Chase (or any other mode) will appear on stage by themselves after the curtains open to reveal them. The lights will flash in time to a public domain version of The Honor's March.
With the animations in, I also had time to get some video finished. Here are the videos for the 6 currently completed games.
I didn't realize until after I had uploaded the video for Log Stampede that I forgot to have the character lift their arms before balling up. It wasn't a major enough mistake that I felt the need to remake the video and will be fixed shortly.
There was a similar mistake in Pinball Slalom where I put the wrong music in. Again, it wasn't a big enough deal to feel the need to remake the video, and will be fixed soon.
The next step is going to be to start on a new minigame. You will have to press the button quickly to pop a stack of balls. After that, I'm going to add in a new minigame mode that normalizes the scores in the minigames to 1000 and totals your points as you play through the number of games set in the options. This is in contrast to simply getting a set number of tickets depending on where you finish like the mode that was previously called Points Race. That mode will now be called Ticket Chase.