Wow, so much has changed since my last news update. Just look at this picture: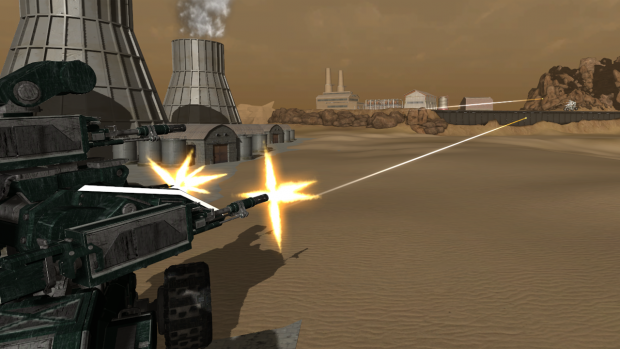 So pretty!
So, lets rewind and take a look at all the updates that have past.
Flame throwers made thier debut into MAV, and the AI loves them! Well, everyone loves them. see for yourself: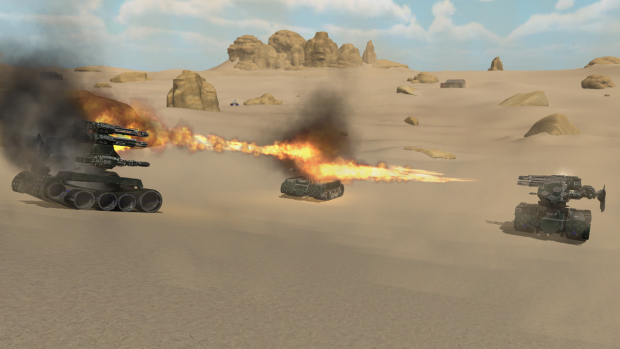 Next, there was a small sound update to add engine sounds to both the treads and the wheel leg types. How about some F/X work to improve the readability of killing an enemy MAV? Death explosions it is! Lots and lots of bug fixes. Impact F/X, deployment system parts, generators, spacers, new models, re-wrote the whole multiplayer backend, new auto updater, an actual installer, blah blah blah. You know what, Just watch this.
Did you see the garage? It got a complete overhaul!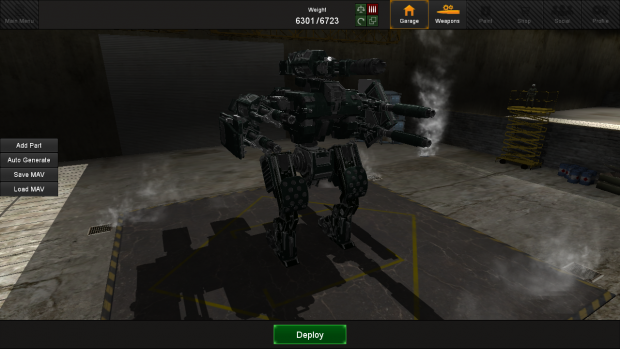 I do want to talk about the new version system as well. Anyone that has the game can go into the options and enable a feature called 'Snapshot Builds'. These are builds that are release more frequently, but are likely untested and maybe even broken. However, they will always have the newest content and any feedback you provide to the snapshot build can have a better chance of making it into the final game.
I also want to tell you about the new automated bug reporter. There is now a system in the game that can detect when it hits a code error. It will then save this error out, and when the time is right, send the error message of to a server, so I can read it and log it into the bug reporter. This has allowed me to see what bugs are hit the most often, and track them down easier and faster. It ONLY finds code bugs though, so say, something is red and it should be blue, it won't find that bug and I still need people to report stuff like that.
I also set up a completely custom master server, which allows the game to have many more options when creating multiplayer games and lays the framework for matchmaking in the future.
Even with this giant list of updates, I am only scratching the surface! I you have the game, go play the latest version and tell me what you think. If you don't have the game, well you can get the game here: BombdogStudios.com for only $10, which gets you immediate access to the game and all future updates!
Feel free to also track me on these sites:
Well, that is all I have for this update. I hope you enjoy the game, and I will try to make updates a more regular occurrence!
[M.A.V. is currently in Alpha funding. You can participate in the Alpha builds by registering a username at Bombdogstudios.com and purchasing a membership for $10. The Alpha membership guarantees you access to all future updates, including the final release of the game, for free.]