PAX
Recently we spent a few days on the floor of the Penny Arcade Expo as part of Indie MEGABOOTH. It was awesome being able to share the game with the public and meet more than a few Kickstarter backers at the show. The feedback we received there was overwhelmingly positive and very much in line with what you all have been sharing with us. To that end, we've been hard at work adding content and fixing issues, which should all be packaged in our next release, Version 0.1
Version 0.1
I'ts been a few weeks since our last patch as we're now digging into the big changes. Though large efforts like localization are happening behind the scenes, several big gameplay updates will be coming with the next release.
First up, we've added Civilian Management to your job requirements as Captain. This new system grants you control of the civilian quarters on your ship, and requires solid management in order to keep your populace content. The happier they are, the more they'll focus on procreation instead of wreaking havoc. You can read more details on this system here: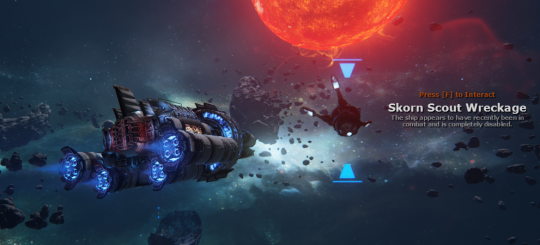 Additionally, we're creating a number of world objects to explore and aid in your journey. Skorn Wreckage is now scattered about, allowing exploration via Shuttle Missions that hold their own perils & rewards.Storage Containers are hidden in various locations, and sending a probe to investigate could yield anything from repair parts to module upgrades. Gas Clouds are also tied to probe missions and provide resources of a specific type. These are just a few of the numerous interactions we'd like to add, but they should go a long way in helping you reach Titus Nova!
That's all for now, but stay tuned as we'll preview Civilian Management and share a release date for Version 0.1 in a future update.
Cheers,
- The Fugitive Team