Hello again Skyrim players and Warring States fans. I'm happy to have the opportunity to disclose the latest progress report. Zigan and I are putting in serious hours on this project, and its paying off.
New Weapons and Clothing
Because swords are relatively easy to get working in Skyrim now, I've moved on to taking on what was originally the greatest challenge for weapon fabrication: Creating a new bow. For anyone not familiar with Skyrim modding, bows in Skyrim are unique in that they have a skeleton much like you would find giving life and movement to Skyrim's NPCs and creatures. These bones control how the bow flexes as it is drawn back. Because of this, and due to the limitations of the Creation Kit, new bows must take on a similar shape to the originals. The bow string is controlled with two pivoting bones, and moving these would break Skyrim's animations. To get around this, I've designed a longbow that looks similar to a traditional Japanese bow, but with additional features that keep the pivot points where they belong.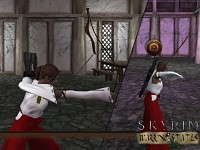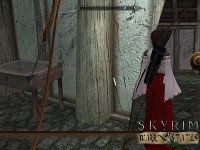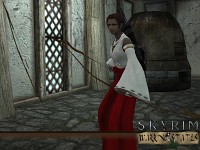 As you can see, the bow is now in-game and working. You'll also notice that the priestess kimono is in game as well. I've learned a whole lot along the way, and this should help speed up future development. The kimono still needs some skin-weight work to reduce sleeve and shoulder clipping, but I'm quite happy just to see it working in-game.To go along with the long bow, I've created a 'long arrow,' or spiritual arrow. This new type of 'ammo' has a new model for the arrow-head (Not pictured) as well as new particle effects for the 'in flight' version. The new arrows trigger a spiritual-energy explosion on impact and are very powerful. Its a good idea to avoid messing with a priestess wielding one of these bows. I've created a video demonstrating all of this, but today's work has already made that video old-news. I'll be putting together a new video for the next news post.

New Static Meshes
While we still have to wait for Bethesda to fix the Creation Kit so we can generate a new World-Space, our testing world is filling up with new static meshes. The first one, the Torii Gate was announced a week or so ago. Today I have added several new wall meshes to match SWS's theme. They work in-game, but do not have collision yet. I'm working on making this happen, but right now I'm stuck with limited options. Bethesda implemented a new type of physics with Skyrim, and the modding community is still working to decode how this new system works. For now we are stuck with convex hulls (Shapes that contour the outside of an object, but do not allow for holes such as the space between the two supports of the Torii gate) and simple boxes.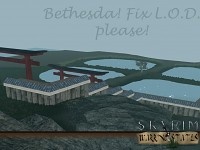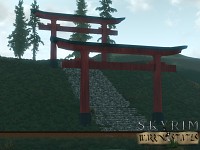 New Team Members
Originally, Zigan and I were the only team members on this project. Since the ModDB page has gone up, we've had a few people express interest. We now have two composers and a voice actor. The final project will require quite a few more voice actors, but until we fix the dialog-sound issue, there is no sense in bringing more members on-board.
Recruiting
As always, we could use a few more developers to make this project a reality. The greatest need right now is for 3D artists who can UVW and compile their own work, as well as animators who can (or can learn to) convert animations to a readable format, edit them and re-compile them into Skyrim compatible files. If you're interested, send me an Email.
That's all for now. Don't forget, you can follow us here on ModDB for the latest updates!