Once again, the community forums have moved to a new site. This new forum is entirely an OFDR community driven effort started by community members and for everyone to rediscover this excellent game. It hasn't been easy for the game's faithful to stay together, but a few members of the community effort have managed to persist through the setbacks. Unlike forums past, this forum is completely community driven. All of the great developments and user created missions are slowly appearing on the new forums and we expect great things in the future of the game.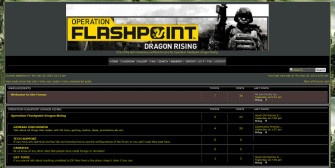 Come and join the conversation and become part of a great tactical shooter community.
Operation Flashpoint Dragon Rising Community Forums
Hope to see you there!