Work on game is continued. Unfortunately, amount of works small. It is explained by impossibility fully to work while in overload power supply networks. But I managed to find the moment and to make the next step of the new version of game.
Today it is the updated type of chevrons of professions of sailors.
I long thought how to arrive. To make chevrons clear for the player, or it is simple to draw similar to real images. Fortunately I managed to find average option.
Those chevrons which are clear, I left in historical – a real look, having only a little changed. And what are unclear, or are ambiguous, I remade. I want to hope that changes will do good.
I had a desire, to make a help which would show chevrons and their appointment. Besides, I wanted to make and interpretation for devices. Not all devices are clear at once, some are unclear at all.
But before to do the help, I wanted to hear your opinion. As far as it is necessary? If you decide that it is necessary, I will surely make helps.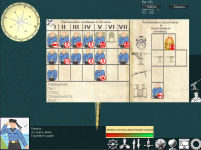 I add a screenshot of the updated panel of crew (with chevrons).
Unfortunately, the situation with power supply leaves much to be desired, on it the news flow was reduced. But as here this boat, I left, but I promised to return!