Hi guys,
Today I've brought a set of progress reports and good news about the new build that we've all been waiting for over the last month.

MODELLING PROGRESS
We've done some more props for the interior of the Gyes bunker. I'd like to share one of them with you - a keypad locker. It has three stages: unlocked (when the door/locker/field is open, so that clicking on it will result to open/close action), enter code (when the door/locker/field is locked, so that you'll need a key/code or a successful use of the Science skill to switch keypad into unlocked stage), and system error (when the door/locker/field is sealed by circumstances or by an unsuccessful use of the Science skill, so that you will not be able to open sealed door/container by your skill roll).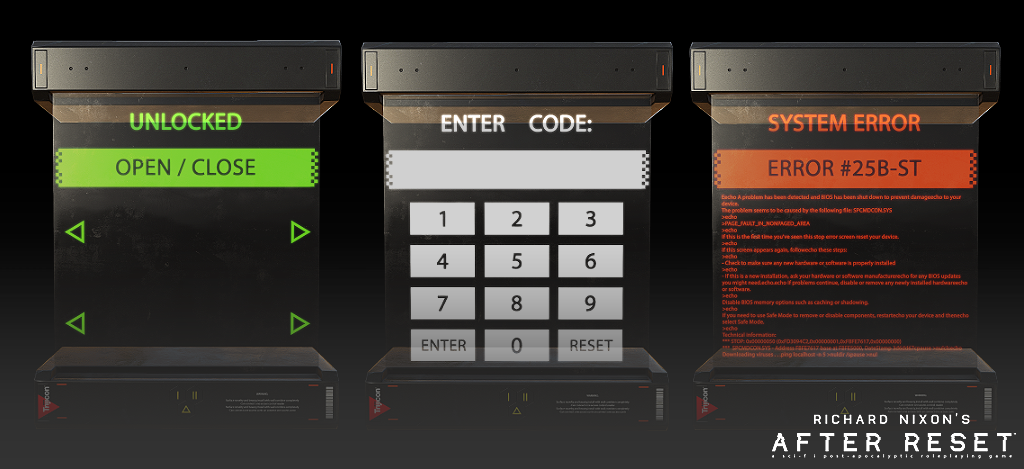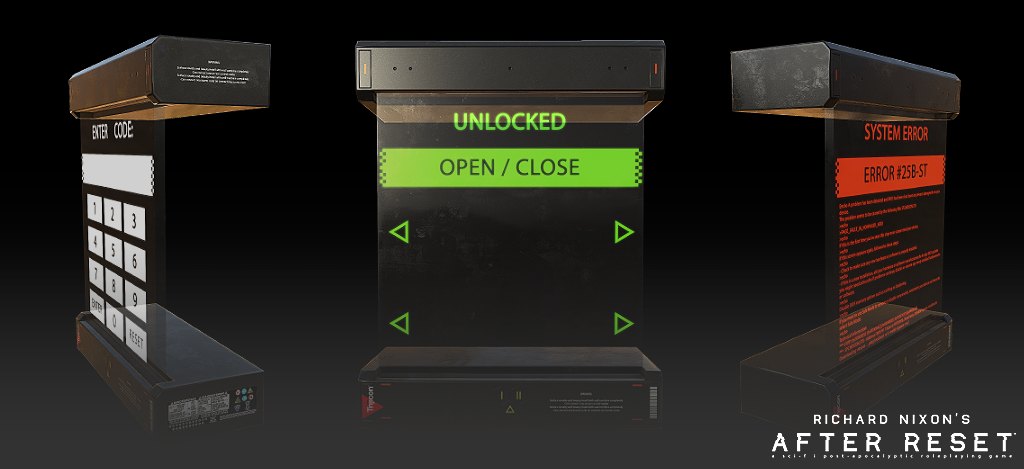 You will not believe but most of the stuff we create with models are born from my rough concepts like this: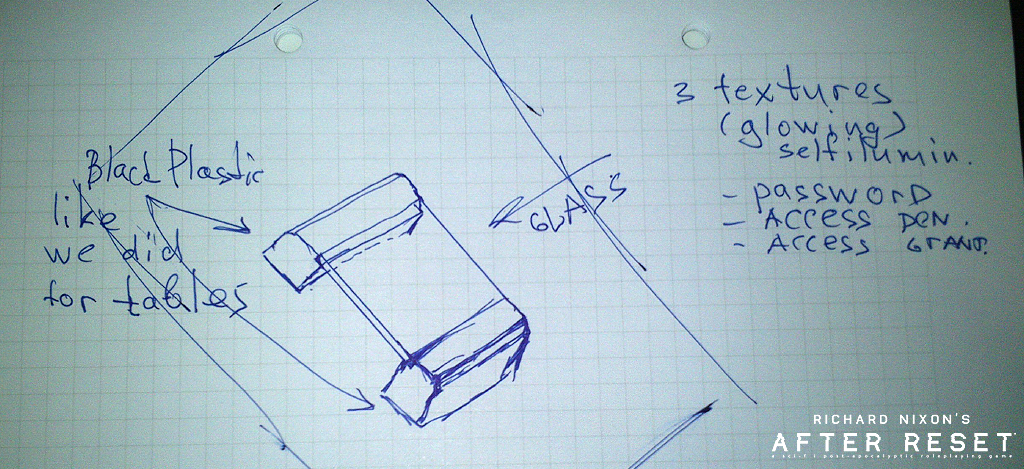 After modelling I usually create decals myself as well, because every item requires a lot of lore and background information to fit the world even if it is not displayed clearly to players (e.g. where this item produced, by whom, which technologies does it use, how much value does it have, what are its prototypes nowadays, what are the typical markings nowadays for this object, what are the tendencies, etc.)
Here you can check our new weapon item too - UKFU Mk2 combat knife: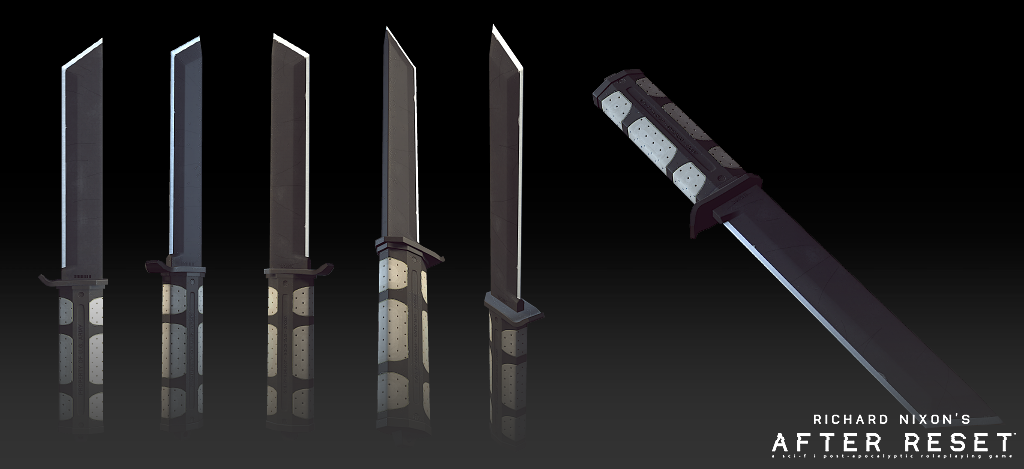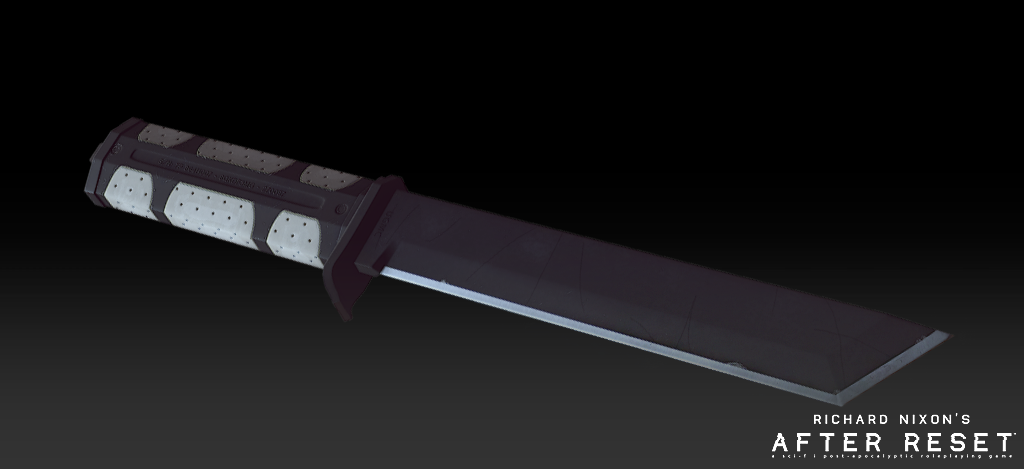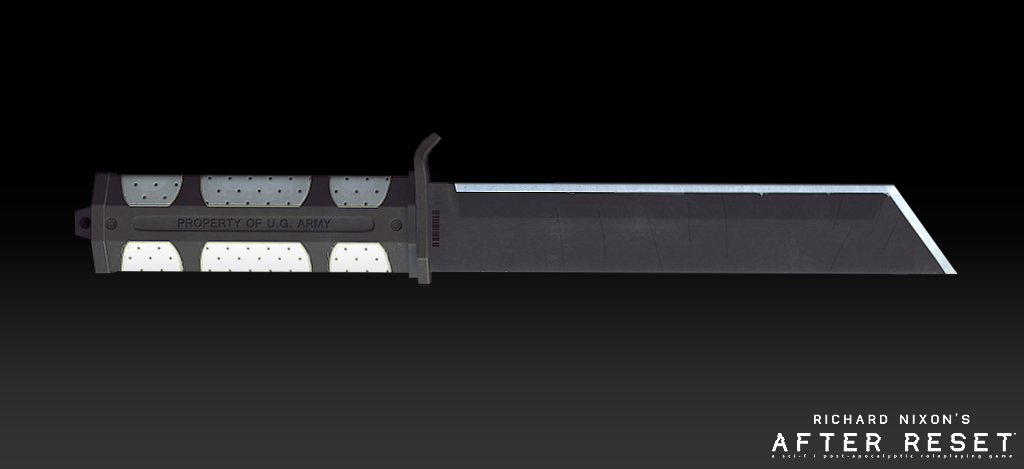 By tradition, our Co-Founders can find full HD screens of this stuff on our official forum:
Afterreset.com
ID from the game: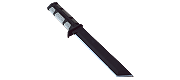 UKFU Mk2
Base Damage: 1d5 + 1d7 (physical).
Base Critical Threat: 19-20/x2 (miss: 1).
Base Damage Type: physical (PL1).
Mobility Penalty: none.
Base Item: knife.
Feats Required: Weapon Proficiency (melee weapons) or Weapon Proficiency (pastager).
Weapon Size: light.
Weight: 0.9 lb.
* * *
The Universal Knife Fighting Utility (UKFU) is the contemporary, popular name for the combat knife first adopted by the United Governments Marine Corps on November 57 A.R. The 1157C2 combat knife (later designated as the UKFU Mark II) was subsequently adopted by the whole United Governments Army as a part of the standard issue weapons list of the U.G. Armed Forces.
Ever since the development of Mark I model these knives were produced and supplied for the United Governments Military Corps by VTECH Alloys, a subsidiary of the Fudo Corporation.
By the 132 A.R. the more modern Mark II version of this knife featured single-edge blades made from v-composite titanium alloy and polysynthetic handles made of Vaaton (a non-slip rubber substitute). The deceptive simplicity of this weapon leads to its combat effectiveness in experienced hands.
EXTRA:
Item Basic Value (PA, NT, SV, ST, RZ, YZ, GZ): 72, 140, 580, 107, 120, 500, 500
Identification Difficulty Challenge: 7
Unidentified Description: This combat knife is a bladed weapon, obviously, made for survival and combat purposes. Unlike common blades, this weapon is made for real fighting.
NEW BUILD RELEASED
Congratulations, we're now a Steamworks developer! We've passed all formal stages and now have access to the developer interface. Much obliged to the guys from Valve for their swift reply and assistance in settings this up.
However, it took a week to distribute all Co-Founder statuses, so I suppose it will take time to spread all STEAM keys at this time. This is not to make you wait, my fellow backers, and I'm going to put it on the web as a password protected download that I'm going to provide you in this locked update.
But I must ask you: if you have enough patience, please wait till you receive your STEAM key. After you install the beta in Steam, the build will be automatically updated according to our development progress. Keep in mind that the Steams distribution we use is not DRM protected nor is not bonded to your machine. It just helps us speed up the distribution of the software and spend more time on development.
For those who just can't wait, you can find the aforementioned downloads here:
* Windows build: Indiedb.com
* Linux build: Indiedb.com
* Mac build: Indiedb.com
Please feel free to give us feedback under this forum topic: Afterreset.com
Any technical issues should be discussed in this forum: Afterreset.com
ABOUT THE STEAM EARLY ACCESS (SEA)
In this news I'd like to share with you several important decisions about the upcoming SEA.
First, we're releasing this closed beta (only for backers), and we're doing this in stages (each of them have decent amount of content):
- Character creation
- Special Facility level
- Science Facility level
- Main Level
- Cave level
- Cave Entrance level
Second, we're going to open SEA for public sales after the Special Facility level is completely done, but no earlier than January 2015.
Third, as planned we're going to revise the values of the pledges according to the Steam channel distribution. This will stress the benefits of the early supporters from Kickstarter and Direct Pledges.
Forth, right before SEA opens up to the public we're removing the digital version of the game from our website's store page and linking directly to the Steam store. We will still be offering physical preorder versions of the game, including several features and the graphic novels.
Fives, right before SEA opens up to the public we're removing Co-Founder status reward from any pledge, but we're still going to supply our current Co-Founders with the extra stuff as we've always done. As I promised, I'd like to grow the value of this proud title but not "selling it." After open SEA launch, I reckon the only opportunity to get this status will be special events or exclusive rewards.
* * *
Okay, that's all for today.
Once again, thank you for your support and attitude, and stay tuned!
Christmas is coming :)
Back us via PayPal.
Add us on Steam Greenlight.
Join After Reset™ RPG official website.