It's been 20 years since the first C&C game was released by the former Westwood Studios when the golden age of RTS had fundamentally started. After witnessing C&C's 20th anniversary, EA released Red Alert 2/Yuri's Revenge temporarily free as a promo in Origin's On The House. The demand is so huge for RA2/YR that EA shut down the download server to allow some cooldown time before it will come back out again. Unfortunately, EA has no announcement of a new C&C game rebooted and restarted in progress. How many times I have witnessed a huge C&C moment? Not much... until now, I have a new announcement to make.

After calling my last version of my KW Reloaded final, I am no longer attempting to fix leftover issues and add new skirmish maps for that mod because I don't have the time to fix, edit and release them as patches. They are so time-consuming and especially the modified RA3 Mod Studio for the C&C3 Mod SDK is so terribly slow. Well it's been six years since Bibber released his first C&C Asset Extractor and also six years since I had the original KW xml pack to do the modding, because then otherwise that KW Reloaded mod would have been impossible without that tool and the KW source codes.

Rather than developing another mod that is called Reloaded, why not start with a Revolution? I am now working on a much bigger project that's been WIP for quite some time , a new expansion mod called C&C3 Tacitus Revolution and this is the new logo for the mod: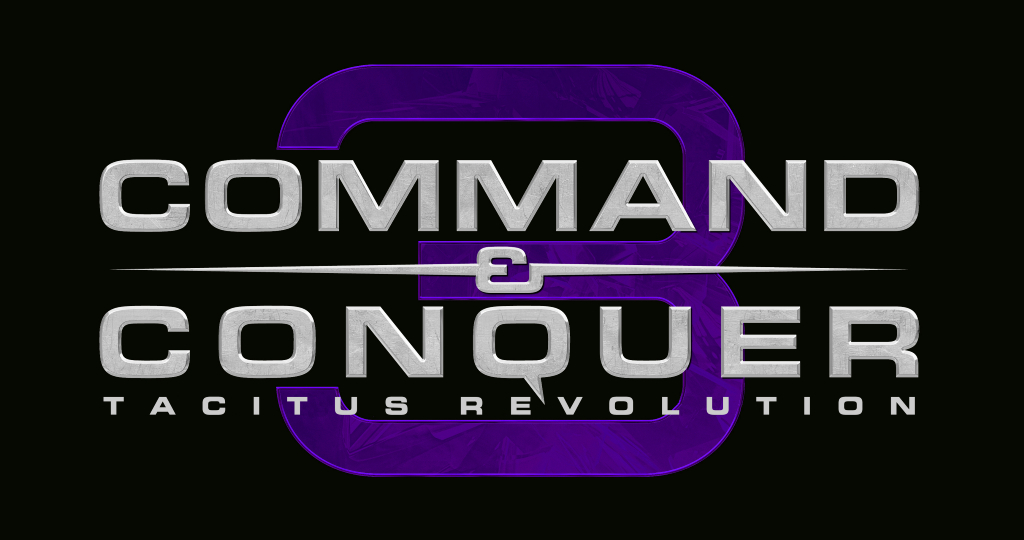 Inspired from Nathan Maes' fan box art of the C&C3 Tacitus Prophecy and the other guys from CNCSaga, this expansion mod for C&C3 first started in 2008 (as Tacitus Prophecy) but was pulled back due to the lack of resources. Now resurrected with enough resources and tons of ideas added in (plus a better name), this expansion mod might become the next biggest C&C mod of all time, nothing like what Zero Hour, Yuri's Revenge and Mental Omega would have had. All assets from KW Reloaded will be carried over to this expansion mod especially for those assets with given permission from mod creditors earlier shall be recalled for re-assessment. The mod I am creating may be the "mental omega" of C&C3.

The reason why am I developing this is because EA lacked Scrin and GDI campaigns for another C&C3 expansion pack. Eventually before this announcement, Gen.Zool, Carnius and their team are developing another C&C3 expansion mod, notably to be called as C&C5 Return of the Scrin, but I had no interest to integrate my ideas and support the mod because their story and gameplay are not quite what I expected.

This expansion mod according to my manual planout will have the following:
• 14 factions (GDI, Steel Talons, Zone Ops Command, Global Air Force, NOD, LEGION, Special Recon Forces, Noble Air Force, Scrin, Reaper-17, Shield-98, Traveler-59, Forgotten, GDI Russia) and a few custom factions
• 90 missions (including an epic 40-mission GDI campaign) + 10 additional GDI missions as future DLC
• 30+ Commander's Challenge missions adapted from the ideas from RA3 Uprising
• Dozens of new multiplayer maps with several new game modes to play with
• Over 100 new units from KW, C&C4, RA3 and other modders (most used with permission)
• Over 1000 terrain textures and hundreds of civilian and neutral objects to use with C&C3 WorldBuilder
• New sky textures and zooming to all maps (imported from C&C3 A New Experience)
• Modified UI menus (with the purple theme -- also imported from C&C3 A New Experience) throughout the game
• New mouse cursors and some new functions to adapt to the battlefield
• New gameplay features:
o 50/50 macromanagement and micromanagement of base/unit building, harvesting and conquering forces.
o Like C&C and Starcraft, you can use power and credits as resources to units/structures as opposed to fuel/credits in Mideast Crisis 2, fuel/manpower in Company of Heroes, lumber/gold in Warcraft and crystals/vespane gas in Starcraft.
o Like C&C3 and RA2, you can capture a specific structure(s) which you can build special units when they are unavailable to build in your faction.
o Like C&C Generals and Zero Hour, units can be salvaged other than mechs and tripods. Only engineers can do that.
o Like Red Alert 3, most units will have at least one ability.
o Like Company of Heroes, most units require a cost to use their ability(s).
o Like Company of Heroes and C&C4, capturing strategic points in various areas to defend against enemies. Some missions require to hold all strategic points to accomplish one point of the mission.
o Like Company of Heroes and Starcraft, there will be some missions and skirmishes with command points as unit limits on the battlefield.
o Like Warzone 2100, very long artillery support is used, but only three factions get to use them such as Falcon MLRS, Rocket Turret and Artillery Tower.
o Like Mech Commander, capturing a turret control tower of a base or sensor outpost gets control of all defenses in that area.
o Researching upgrades gets more longer to upgrade with no less than 30 seconds.
o Collecting artifact crates gets more enforced as you pick up new intel throughout the campaign(s) similar to Warzone 2100.
o Like C&C Covert Ops, Counterstrike, Aftermath and Mental Omega 3, instead of huge SP campaigns in which I neither have the budget nor time for, all missions will be played as a mission pack in the custom missions menu, meaning you can play any mission in no particular order. However it's highly recommended you will play them in order of the story and missions.

So far....
Current manual planout status: 95%
Current expansion mod status: already WIP
First Release: 3/28/2017 (as a public beta version -- just in time for C&C3's 10th anniversary)
Full Release: when it's done

More additional details (including a brief story and other content of the expansion mod) will come later as I will be making a new Moddb page for the expansion mod soon. The expansion mod will not be done solo eventually because some assistance will be needed.